Britney Spears issues cease and desist letter to sister Jamie Lynn over book
Britney Spears says she will sue her sister Jamie Lynn, if she continues to make "derogatory" statements about her while promoting a new book.
In a cease and desist letter, Britney's lawyer Matthew Rosengart claims that the "ill-timed" memoir contains several "misleading or outrageous claims".
Although Britney has not read the book, she believes her sister has "exploited her for monetary gain," he said.
"She will not tolerate it, nor should she," the letter continued.
Jamie Lynn has not yet publicly commented on the letter.
"Publicly airing false or fantastical grievances is wrong, especially when designed to sell books. It is also potentially unlawful and defamatory," Rosengart warns in the letter.
"You recently reportedly stated that the book was 'not about her.' She takes you at your word and we, therefore, demand that you cease and desist from referencing Britney derogatorily during your promotional campaign.
"If you fail to do so or defame her, Britney will be forced to consider and take all appropriate legal action."
Britney and her sister have been engaged in a battle of words ever since Jamie Lynn appeared on Good Morning America to promote her book, Things I Should Have Said, last week.
The book reportedly details her own life story, including her young daughter's near-fatal accident in 2017, her relationship with Britney and the role she played in the singer's controversial conservatorship.
During the interview, Jamie Lynn described herself as "my sister's biggest supporter" and said she "took steps to help" end the conservatorship.
But according to ABC, she also describes Britney's past behaviour in the book as "erratic", "paranoid" and "spiralling".
In a podcast released on Tuesday, Jamie Lynn said her sister started "changing" in 2002. She also described an incident where Britney supposedly locked herself in a room with a knife and told Jamie Lynn she was "scared".
"This was a brilliant young woman who was going through a hard time – and if she couldn't stand up herself, then somebody should have," she told the Call Her Daddy podcast.
"I wasn't an adult then. I couldn't [but] somebody should have said, 'Stop the presses. Give this girl a minute.'"
Responding to the Good Morning America interview, Britney said she was "bothered" that her sister described her behaviour as "out of control".
"She was never around me much 15 years ago at that time… so why are we even talking about that unless she wants to sell a book at my expense."
In a more recent Instagram post, she described Jamie Lynn as being pampered, saying "this was never my life".
Jamie Lynn has replied by saying her book is not solely about Britney, adding: "I can't help that I was born a Spears too, and that some of my experiences involve my sister."
"Quite frankly, the things being said are absolutely not the truth," she wrote on Instagram.
Father accused of exploitation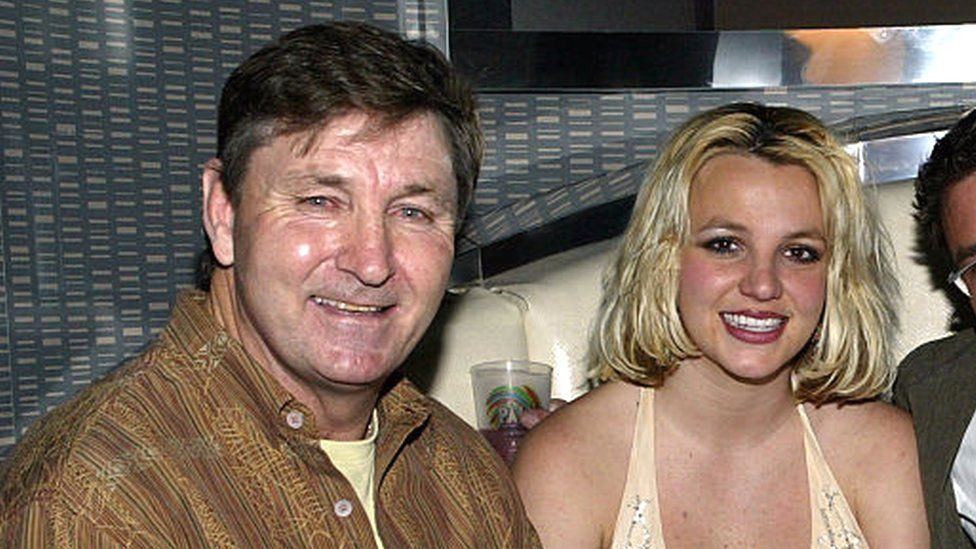 Separately, Britney has objected to her father's request to have his daughter continue paying his legal fees, despite being suspended as her conservator before her guardianship was terminated last year.
In papers filed in Los Angeles, the star's legal team revealed that Jamie Spears paid himself "at least $6 million [£4.4m]" from his daughter's estate over his 13 years as her conservator, including a payment of $192,000 (£141,000) in 2020.
The documents allege that Jamie used some of these funds "for his own purposes", including an attempt to pitch a TV cooking show called Cookin' Cruzin' and Chaos with Jamie Spears.
He also "petitioned for fees to be paid to dozens of different law firms" for "more than $30 million [£22m]", Britney's lawyers claim. Some of this money was allegedly used to "suppress the #FreeBritney movement and sue Britney Spears supporters".
The court filing also includes a statement from Sherine Ebadi, a former FBI special agent who has been hired to investigate Jamie's stewardship of Britney's estate.
Amongst her findings, Ms Ebadi confirms a report, first carried by the New York Times last year, that a "secret listening device" had been installed in Britney's bedroom "at the direction and with the approval of Mr Spears".
She also states a security firm had cloned Britney's phone to monitor her text messages, "including attorney-client privileged communications with her counsel".
Jamie Spears has yet to respond to the allegations. He has previously denied abusing his position, saying he worked in his daughter's "best interests". – bbc.com