Covid: Face mask rules and Covid passes to end in England
England's Plan B measures are to end from next Thursday, with mandatory face coverings in public places and Covid passports both dropped, Boris Johnson has announced.
The prime minister also said the government would immediately drop its advice for people to work from home.
The PM said England was reverting to "Plan A" due to boosters and how people had followed Plan B measures.
He told MPs that scientists believed the Omicron wave had peaked nationally.
In a statement to MPs in the House of Commons, the prime minister confirmed mandatory Covid passports for entering nightclubs and large events would end, though organisations could choose to use the NHS Covid pass if they wished.
Mr Johnson said from now the government would no longer advise people to work from home, and that people should discuss their return to offices with employers.
And face masks will no longer be mandated, though people are still advised to wear coverings in enclosed or crowded spaces, particularly when meeting strangers.
From Thursday, secondary school pupils will no longer have to wear face masks in classrooms and the Department of Education will remove guidance on their use in communal areas "shortly", the PM added.
The prime minister also said the government intended to end the legal requirement for people to self-isolate after they tested positive for Covid.
He said while self-isolation regulations remained in place for now, as Covid becomes endemic they would need to be replaced with advice and guidance.
When the current self-isolation regulations expired on 24 March, Mr Johnson said he expected not to renew them. If the data allows, the government would "seek a vote in this House to bring that date forward", the PM added.
Restrictions on visits to care homes in England would also be eased further, with Health Secretary Sajid Javid setting out plans "in the coming days", the prime minister added.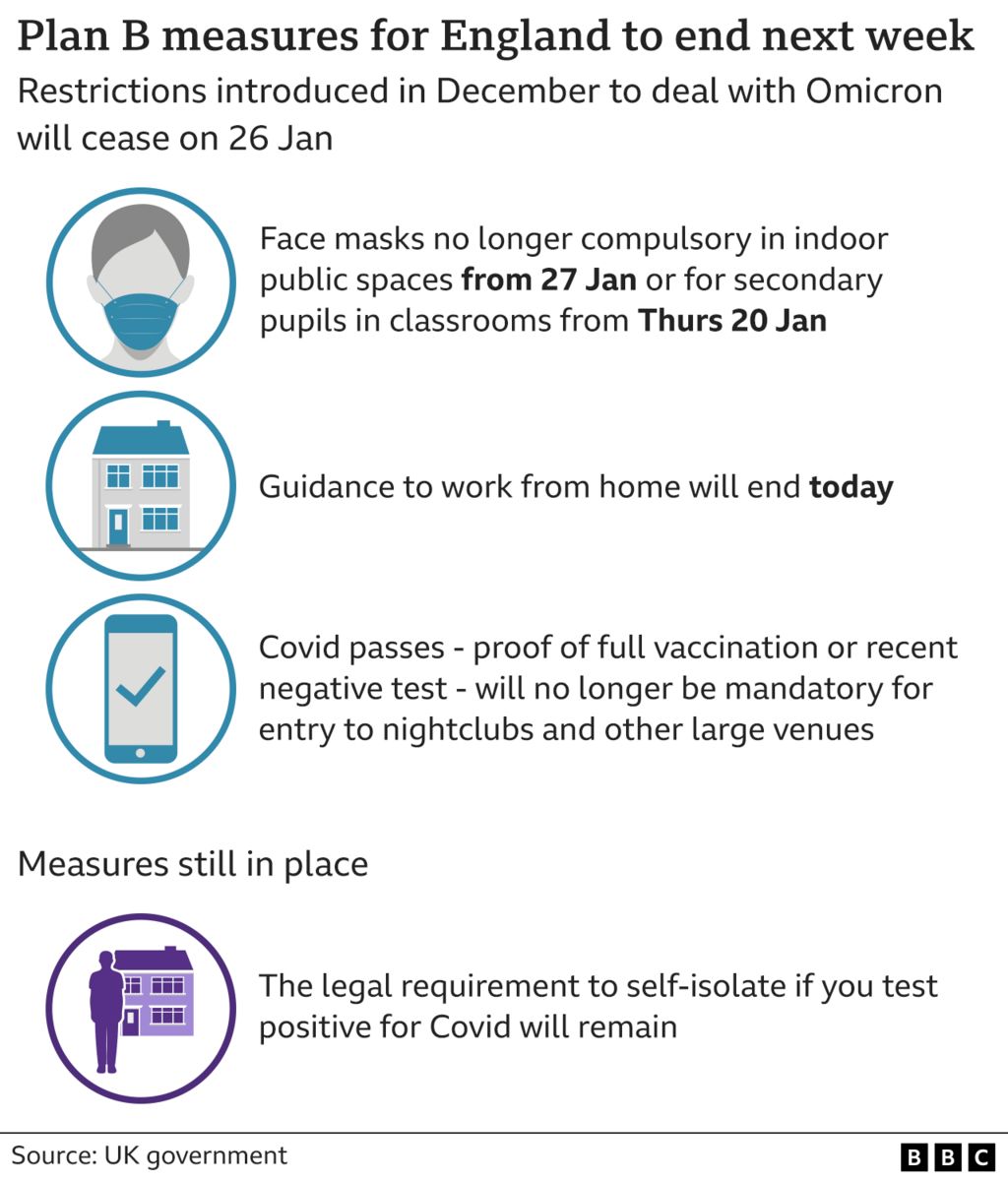 Citing the latest infection study by the Office for National Statistics, Mr Johnson said its data showed that infections levels were falling in England. While cases are likely to continue rising in some places, scientists believe "it is likely that the Omicron wave has now peaked nationally", the prime minister said.
The weekly survey of private households estimates that Covid infection levels had fallen in England, Scotland and Wales for the first time since before Christmas.
Its estimates suggest that one in 20 people in England, one in 20 in Scotland and one in 25 in Wales would test positive for Covid in the week ending 15 January – while the trend in Northern Ireland was described as "uncertain".
Mr Johnson said the government would set out its long-term strategy for living with coronavirus and how it planned to avoid bringing in restrictions in the future.
To achieve this, people must "remain cautious" during the last weeks of winter as there were still "significant pressures" on the NHS and the pandemic is "not over", the PM said.
Responding to Mr Johnson in the Commons, Labour leader Sir Keir Starmer said he would back the lifting of Plan B measures "as long as the science says it is safe".
But he insisted the government must have a "robust plan to live well with Covid" before questioning where it was and claiming the prime minister was "too distracted to do the job".



The whole of plan B is going. But is it too soon?
Infections levels, while falling, are still well above what they were last winter. And hospital admissions have only just started coming down.
The fact remains that England – and the rest of the UK for that matter – is one of the best protected nations when you combine the immunity built up by vaccination and previous infection.
This does not mean people will not catch the virus in the future, but it does limit how many will become seriously ill.
What's more, this Omicron wave appears to have peaked at just over 2,000 hospital admissions a day – very much best-case scenario territory.
This has given both ministers and the scientists advising them confidence that it's at least time to ease restrictions.
Others will argue this is going too far, too quickly.
But in the end it comes down to a judgement about what is proportionate.
And certainly you have to wonder what impact the politics involved in this has had – the Tory backbenchers were unlikely to vote to keep any part of plan B.
But in the end it also comes down to a judgement about what is proportionate.
There is a trade off that has to be made between the costs of such restrictions and the benefits they bring.
With the worst of the Omicron wave almost certainly over, the benefits were reducing.


The restrictions were first introduced in December in a bid to contain the highly-transmissible Omicron variant and allow time for the booster vaccine rollout.
UK Daily infections remain high but are falling, with the total recorded over the past seven days down 38.9% on the previous week.
The number of Covid-related hospital admissions also appears to be decreasing, with the weekly figure down 2.9% in the seven days up to 14 January.
However, there is a lag between people catching the virus and becoming seriously ill so deaths are continuing to rise – and are up 14.7% on last week.
On Tuesday, the UK recorded 94,432 new cases and 438 deaths within 28 days of a positive test – the highest figure since 24 February – although the daily death figure tends to be higher after weekends because of reporting delays.
More than 36 million boosters have been given across the UK so far, with the government continuing to urge anyone who hasn't received their jabs to come forward. – bbc.com