Monaco Grand Prix: 'A weekend of illusions, but Alonso entertains'
The Monaco Grand Prix was a weekend of illusions.
It started with a feeling within Formula 1 that this could be the race at which Red Bull could finally be threatened seriously by another team, perhaps even beaten.
That sense lasted through qualifying and for a large part of the race, but in the end Max Verstappen and his car did what they always did – crushed those hopes under the sheer weight of their superiority.
Before the race, it was perceived that Red Bull faced two potential threats.
One was Ferrari, and particularly Charles Leclerc, and the other was Fernando Alonso's Aston Martin.
If Leclerc could put his Ferrari on pole – as he had the past two years in Monaco, as he had in fact at the Baku street circuit two races ago – perhaps he could hold on ahead of the Red Bulls for a win.
And Alonso, outstanding all year, has a car whose strengths would be accentuated by Monaco and its weaknesses not exposed. Perhaps he could be the man to finally unseat Red Bull.
The Ferrari challenge faded quickly. Even Leclerc's renowned skills on one lap, and especially on street tracks, were only good enough for third on the grid, which became sixth after a penalty for impeding in qualifying. That was the end of that.
Alonso's threat lasted a good while longer. He was on pole until a spectacular final sector of his final lap from Verstappen wrested it from him. And in the race he was the only driver who kept in touch with Verstappen.
Aston Martin chose an alternative tyre strategy that made life uncomfortable for Verstappen. And some even felt that had the team gone for intermediate tyres rather than slicks when they stopped on lap 54 as rain began to intensify around Monaco, Alonso might have taken the lead, for Verstappen had not pitted and faced a lap on a wet track on slick tyres.
But that, too, was an illusion.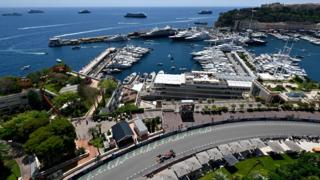 The blue sky and the immaculate view of Monaco is iconic in F1
Not fitting intermediates was a 'misjudgement'
Aston Martin team principal Mike Krack admitted after the race that not fitting intermediates at that point was, in hindsight, "a misjudgement", although Alonso himself disagreed.
But that's not the same as the decision making any difference to the outcome.
The theory doing the rounds was that, had Alonso put on wet tyres at this point, with Verstappen still out on slicks and the rain coming down harder and harder and over more and more of the track by the second, the Spaniard might have made up enough time to be ahead by the time Verstappen had slithered around to the pits.
This impression was heightened by the fact that Verstappen hit the barrier at Portier on that lap.
The numbers give no clear answer.
Verstappen was just over eight seconds ahead of Alonso when the Aston Martin pitted. The Spaniard gained a remarkable five seconds on his in-lap but even so that's a lot of time to bleed to lose the lead.
And Red Bull team principal Christian Horner says that, according to their live data, even if the risk was there if things had gone badly wrong, Verstappen was never vulnerable.
"We had enough margin that even five or six seconds off the pace we'd still have been three or four up the road," Horner said. "I was surprised they took the medium tyre, so that totally let us off the hook and then it was: 'OK, Max, just get it to the pits.'"
However, a close look at what was going on suggests it could have been mighty close.
Even on his fresh mediums, Alonso was four seconds quicker than Verstappen in his middle sector alone on his one lap on them.
Yuki Tsunoda in the uncompetitive Alpha Tauri and Alpine's Esteban Ocon, who stopped on the same lap as Alonso and did put on inters, both gained seven seconds on Verstappen in the middle sector of the lap alone.
Alonso, one would have to assume, could have at least matched their performance – although George Russell, who also stopped and put on inters and then promptly made a mistake and went down an escape road, proved nothing could be taken for granted in these conditions.
Alonso himself rejected the theory, and said he was "surprised" by the question. He said that on his in-lap, he felt slicks were the right choice.
"I didn't live the race from the cockpit as you probably saw on the outside," he said. "For me, it was very clear that the track on that lap we stopped was completely dry, apart from Turns Seven and Eight. So, who will put the inters?
"The weather forecast we had as a team said it was a small shower, and a small quantity of rain as well, and we had a lot of margin behind us to put the dry tyres and, if necessary, the inter tyres.
"Maybe it was extra safe, I don't know. But that minute and a half that it took to go through Turns Five, Six, Seven and Eight again, it changed completely, so the out-lap on the dry tyres, it was very wet when I got to those corners, but the lap that we stopped, it was completely dry."
Mercedes team principal Toto Wolff said his team had a different view. Lewis Hamilton and George Russell, who stopped on the same lap as Alonso and did put on intermediates, had told Mercedes it was definitely time for inters, and that they could have put them on a lap earlier.
But ultimately it doesn't matter whether it was the right choice, too conservative or otherwise, if Verstappen was never in a position where he had bled enough time to lose the lead anyway.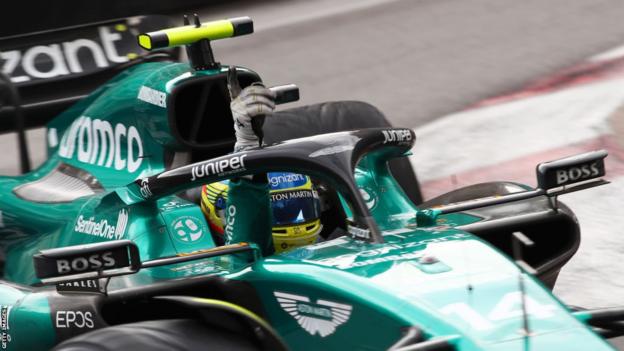 Even after that, after Alonso had stopped again on the next lap and did fit inters, there was another brief sense of threat.
Alonso was now 22 seconds back from Verstappen, but he reduced the gap by five seconds over the next five laps. He couldn't catch him, could he?
No. On lap 61, Verstappen upped his pace, extended the lead by two seconds, and the final illusion was put to bed.
"It was just that I had a big lead," Verstappen said, "and I didn't want to risk trying to be the same pace or faster and then end up in the wall.
"You have to be a little bit more careful. It's just not take too much risk but at the same time, of course, not drive too slowly. I think I had Lando [Norris' McLaren] in my gearbox as well. So at one point, I was like, 'Well, I do need to speed up a bit.'"
Alonso said: "We are P2 so we are very happy, very happy with the race, because the P1 was very fast today. On any tyre, in any condition, Max was always 15 or 20 seconds in front of us. There was no chance to win today."
In reality, it was quite the achievement from Alonso to even vaguely threaten Verstappen in Monaco. Verstappen and Alonso were in a league of their own all weekend, something Horner pointed out after the race.
The qualifying lap that Verstappen had to produce to beat Alonso was something else. Horner said: "It will go down as one of the great laps of Monaco – it was win it or bin it and it was stunning. It was one of the best laps of his career."
And Aston's decision to first the hard tyre for the start of the race made life uncomfortable for Red Bull, who had chosen mediums for Verstappen.
With rain on the horizon, it meant they were forced to extend their first stint much longer than they wanted – pretty much double, Verstappen said – because they could not afford to pit and come out behind Alonso on a track where overtaking is impossible if both were then going to have to stop for wet tyres.
So Verstappen had to eke the life out of his tyres and wait for the rain. Alonso, in a slower car, always made sure he was close enough that Verstappen could not pit and come out ahead, even if there was a safety car that pretty much halves the time-loss of a pit stop.
"You have to take your hat off to Fernando this weekend," Horner said. "I thought Max and he were outstanding this weekend.
"The rest of the field were a long way behind. Only Fernando was able to stay in touch with Max and keep within a pit-stop window; be dancing around that safety car window as well.
"Both those guys were head and shoulders above the rest of the field. It's great to see Fernando's confidence and the way he's driving the car. He and Max are very similar in many respects, the way they drive how tenacious they are. They are always pushing and you can see they enjoy the fight."
Krack, for his part, said Alonso had been "fantastic" all weekend.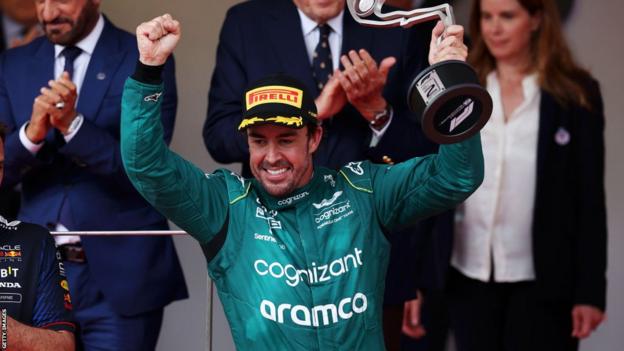 Second place for Alonso was his best result of the year, and he is now just 12 points behind Verstappen's team-mate Sergio Perez in the championship, after a dire, error-strewn weekend from the Mexican left him 16th at the finish.
Verstappen is a further 39 ahead, but Alonso is discounting nothing.
"We didn't have the best car [with Ferrari] in 2010 and we arrived leading the championship in Abu Dhabi," he said. "We didn't have the best car in 2012 and we still fight for the championship until the last lap in Brazil.
"So the championship is long. We will not give up. We will need weekends where Red Bull has some issues like Sergio had here with the DNF or zero points. And if Max has one or two of those, we will be a little bit closer in the championship.
"This is motorsport. Anything can happen. On pure pace I think we don't have the chance yet, but we will not give up for sure.
"I'm not getting obsessed with this to be honest. I will be happy fighting for the championship with all second places until the end of the year or fighting for the championship next year.
"This year is just a gift, what we are having every weekend is just a celebration on the team. We didn't expect this and this is just a build up into next year so hopefully good things are coming."
After his fourth win in six races, though, and now a second poor weekend from Perez to follow the one he had in Australia back in March, Verstappen is in total control of the championship.
Monaco was his 39th Grand Prix victory, which surpasses Sebastian Vettel as Red Bull's most successful driver. He is two short of Ayrton Senna's career total, and 12 away from Alain Prost's. After that, only Michael Schumacher and Lewis Hamilton are ahead – albeit a long, long way.
"If you have a good car for a while, you can break these kinds of numbers," Verstappen said. "It's great. I mean, I would have never thought that I would be in this position in my career.
"When I grew up, I wanted to be a Formula 1 driver and winning these races is amazing. It's better than I could have ever imagined, for sure." – bbc.com