Spanish Grand Prix: Lewis Hamilton sets sights on next season with Red Bull 'so far ahead'
Mercedes had their best race of the season with their newly updated car at the Spanish Grand Prix but Lewis Hamilton was under no illusions afterwards that he was about to reignite his rivalry with Max Verstappen.
Hamilton and his team-mate George Russell completed the podium behind Verstappen at the Circuit de Barcelona-Catalunya, the first time two Mercedes drivers had stood up there this season.
But even though Russell had fought his way up from 12th on the grid, and won a battle with Verstappen's team-mate Sergio Perez, who started one place ahead of him, there was no hiding from the reality of the result.
Verstappen finished 24 seconds ahead of Hamilton without even appearing to extend himself – pretty much the same margin Red Bull have had at every race this season, bar the crash-strewn Australian Grand Prix.
"They are so far ahead," Hamilton said, "and ultimately Max will continue to win this year."
Verstappen on a plateau all of his own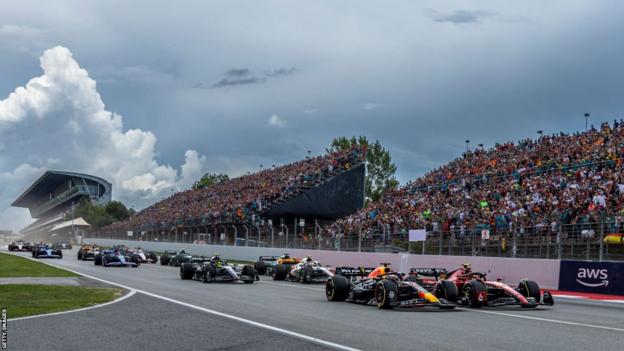 This was only the seventh race of 22 this year, but Verstappen has the whole field beaten already. He pretty much has done since race one.
There was a brief period when it looked as if Perez might stick with him – the Mexican had faith, even if pretty much no-one else did – but even that idea has evaporated.
Perez had his second weak race in a row – and his third of the season – and he is now 53 points behind Verstappen. Any illusion of a battle between the two is gone.
He was never going to be able to keep operating at a high enough level consistently enough to worry Verstappen, and the events of the last few weeks have only proved what everyone else in F1 already knew.
Even Red Bull team principal Christian Horner effectively gave the game away. He over-stated the quality of Perez's comeback drive – he was essentially no quicker than the Mercedes – but in doing so his answer confirmed the impression that Perez has been over-reaching in a quest for something that was never realistically achievable.
"It will give him a lot of confidence," Horner said of Perez's comeback to fourth place. "Difficult Monaco, difficult Saturday here, a stronger Sunday. And looking at the [points] gap between the two drivers now, which is pretty significant, in many respects that will take pressure off his shoulders and allow himself to relax and not put pressure on himself – and find the form he had in the early races."
Perez is a very capable F1 driver, albeit no Hamilton or Fernando Alonso. All the same, his form has underlined that Verstappen's dominance is not just about his car.
Verstappen himself has been operating at a phenomenally high level for a long time now, and he exudes the impression of a man in total control of his environment. There appears no danger whatsoever of anyone getting in the way of his success for the foreseeable future.
Record-breaking potential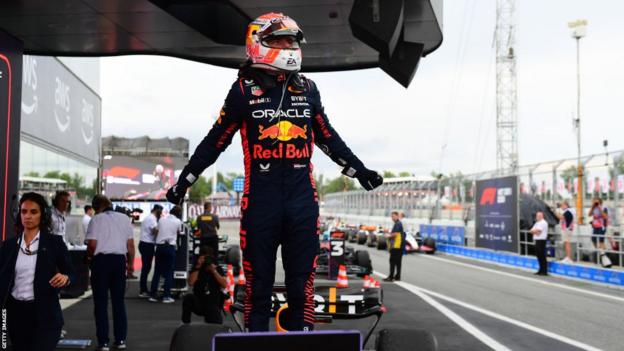 The numbers Verstappen and Red Bull are racking up are all-time great level. This was Verstappen's 40th grand prix victory. One more – presumably in Canada in two weeks' time – will bring him level with Ayrton Senna, with only Alain Prost, Sebastian Vettel, Michael Schumacher and Hamilton ahead.
His victory was also the 16th for Red Bull in the last 17 races. The run is split over two seasons, admittedly. All the same, that is one better than McLaren achieved in 1988 with Senna and Prost, when with 15 wins from 16 races they came the closest anyone has to a clean sweep of a season.
Red Bull, with seven wins from seven this year, are still on for easily beating that in terms of numbers, and they may yet become the first team to win every race in a season.
Verstappen admitted on Thursday that it "looks like" they can do it. He qualified it by saying it was "very unlikely to happen". Something, he said, was likely to crop up to stop them. But right now, it is hard to imagine what that could be, so strong do they appear.
Verstappen and Red Bull are doing to F1 what Manchester City are doing to football. Making every competition a foregone conclusion.
If the season is becoming increasingly hard to watch for neutrals, Horner has little sympathy.
"We spent seven years trying to get back into a winning position," he said, in reference to the years of Mercedes championships, when at least Hamilton faced competition from his team-mates, and the team themselves from Ferrari for a couple of those years.
"Losing hurts. We have worked very hard to get back into this position and it's not just Max. The whole team is operating at such a high level. We have a phenomenal car, two great drivers and Max is continuing to evolve as a driver. He's getting more and more polished and the capacity he has in the car is truly impressive.
"When he is recognising [Red Bull motorsport adviser] Helmut Marko's phone ringing from within the car, he just has this added bandwidth that puts him at another level."
Hamilton's concerns extend beyond this year
Hamilton expressed an even bigger concern that arises out of the level of Verstappen's superiority.
"That means," Hamilton said, "that they can start development for next year sooner than everyone else, if they haven't already. And that's the danger."
Red Bull's punishment last year for being found guilty of breaking F1's budget cap in 2021 was a 10% reduction in aerodynamic research that ran for 12 months from October last year. And on F1's rule that dictates a sliding scale of permitted development they were already on the least permitted amount because of their success.
In theory, that should bite them at some point. But they are so far ahead that they now don't have to worry too much about expending energy on this year's car.
"The team are just doing an incredible job being extremely efficient," Horner said. "We have very subtly developed the car since [the first race in] Bahrain. We've seen others bringing significant upgrades and the margin has remained pretty much the same as it was in Bahrain.
"Hugely proud of it and it just means that much more that we were there, then down and then we fought back to being there again.
"F1 is one of the most competitive sports in the world and to be operating at the level we are is something you have to celebrate.
"So we will celebrate it tomorrow almost like it's a first. You have to celebrate every moment because you never know how long it is going to last."
Optimism tempered by realism at Mercedes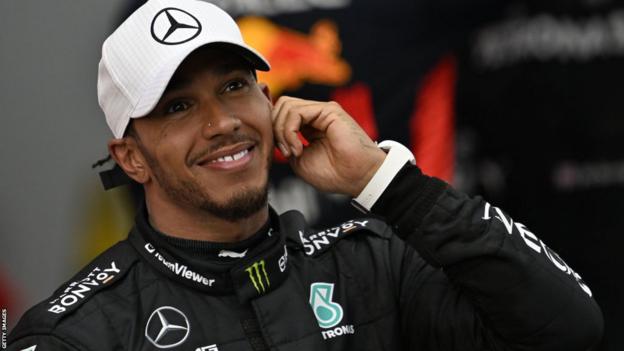 The Mercedes upgrade introduced last week in in Monaco appeared to work well in Barcelona, even if the team were withholding judgment because it was also one of their stronger tracks last year.
Hamilton said the car felt better than it had at any point since the start of 2022 "and that is highly encouraging".
He added: "We have something in the pipeline. We need to be taking big chunks out of them with every step we take. We're going in the right direction.
"I am hoping by the end of the year it would be great if we can challenge them. But I am more focused on making sure that we have the car to challenge them next year from day one. The further we push this car this year, the more it impacts next year."
Mercedes team principal Toto Wolff was pleased to be vindicated on the introduction of the upgrade, but said: "Let's keep our expectations real. There is such a long way to go to challenge Red Bull. It's a good moment and the development direction is right.
"We just need to chip away. We are really good at grinding. Once there is a development direction, we just go for it. But we also need to be realistic. The temperatures really suited us. Not too cold or hot and the car was in a mega window."
Hamilton and Wolff in further contract talks
Hamilton's comment that he was more interested in next year than this was not only an admission that this season is effectively over already, it was also a confirmation that he is staying in F1 with Mercedes beyond the end of his contract.
He has never said anything else, always said a new contract would be done sooner or later. And he let slip after the race that he and Wolff were to discuss it on Monday.
"I haven't signed anything yet," Hamilton said, "but I am meeting with Toto tomorrow and hopefully we can get something done."
That suggested it might be close, as did Wolff's comment that it was "going to take half an hour".
But it may still be some time away, for Hamilton added: "We've had so many meetings. It is just another one."
'Catastrophe' for Ferrari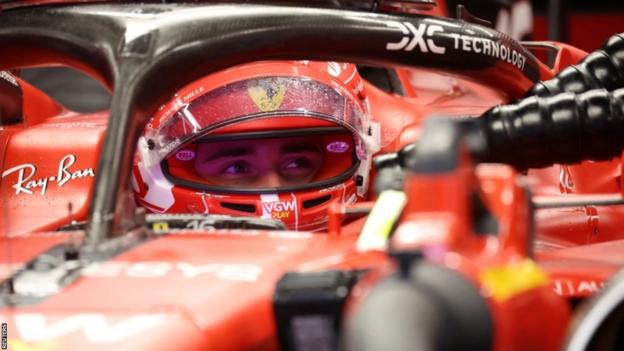 If things are at least moving in the right direction at Mercedes on a number of fronts, the same cannot be said of Ferrari.
They introduced their own major upgrade in Spain, new bodywork and a new floor moving their car more in the direction of Red Bull's design philosophy. They said at the start of the weekend that, as well as adding a small amount of performance, the aim was to make the car behave more consistently, its unpredictability being its biggest weakness. But in Spain at least this did not work.
Carlos Sainz had his best qualifying of the season in taking second on the grid. This, both he and team boss Frederic Vasseur said, was proof that the upgrade had brought outright performance – about 0.1secs a lap, Vasseur said.
But in the race Sainz slumped to fifth, beset once again by one of Ferrari's main 2023 weaknesses – high tyre degradation.
And team-mate Charles Leclerc had a nightmare time. He qualified an almost unthinkable 19th and in the race could recover only to 11th – and even that was one place higher than he finished, because Alpha Tauri's Yuki Tsunoda was demoted below him by a penalty.
In French after the race, Leclerc described the weekend as "a little catastrophic". In English, the phrase he chose was "a disaster again". Whatever language he used, the message was the same.
The car remained inconsistent from one stint to the next, Leclerc said, even on the same type of tyres.
"First stint on the hard a disaster," Leclerc said. "Last stint on the hard really good and I didn't change anything in my driving. We just don't understand."
Vasseur said: "The potential is there but we have always the same issue. The race today is almost a copy-paste of Miami except we are faster than Aston and that is probably where we made a step forward. But we had the same issue the last two or three events and I don't want to say it is easy to fix because it is still there.
"Clearly we have to put all the focus of the team and company on this because, if we want to achieve something, we can't be so inconsistent."
Did he have any thoughts about Canada, Vasseur was asked? There was a long pause, which spoke volumes.
"Ummm," he said eventually. "Let's try again." – bbc.com