UK inflation falls sharply to 4.6% as energy prices ease
UK inflation fell sharply in October to its lowest rate in two years, largely due to lower energy prices.
Inflation, which measures the rate at which consumer prices rise, dropped to 4.6% in the year to October, down from 6.7% the month before.
The figure means a government pledge to halve inflation by end of the year has been met early.
But there is a limit to how much credit ministers can take for the fall as energy prices settle.
Economists have said the main reason inflation has fallen from its peak of 11.1% in October 2022 is due to a fall this month in the energy price cap, which limits what suppliers can charge consumers per unit of energy.
They also note the Bank of England's decision to raise interest rates, in a bid to cool demand in the UK economy and slow price rises.
Rates are currently at 5.25%, a 15-year high, which has pushed up mortgage costs but also meant higher savings rates.
Grant Fitzner, chief economist at the Office for National Statistics (ONS), said inflation fell as "last year's steep rise in energy costs has been followed by a small reduction in the energy price cap this year".
He added food prices were little changed last month, but said hotel prices had fallen.
Although the signs point to the cost of living easing, many households will not feel better off, especially when it comes to energy bills.
Despite gas and electricity prices being lower than last year, most households will actually pay more for energy this winter than last because government support for bills is no longer in place.
Falling inflation also does not mean that most goods and services are cheaper to buy, rather that prices are rising less quickly.
'Legacy of higher prices'
James Smith, research director at the Resolution Foundation think tank which focuses on the living standards of people on low-to-middle incomes, said "the cost-of-living crisis is far from over".
"The scale of Britain's inflation shock has left a legacy of far higher prices," he said.
"Over the past two years, the cost of energy has surged by 49% while food prices have risen by 28% – far greater than the 14% in average earnings over this period."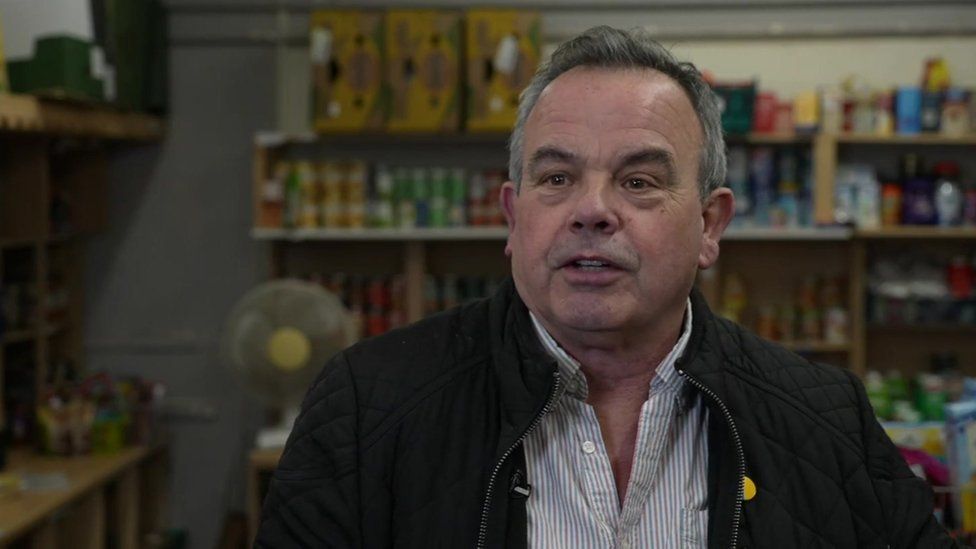 Dave Golding, manager of the Patch food bank charity in Milford Haven in Wales, said people were still under pressure from higher food and energy costs, with the charity set to have provided 150,000 meals this year.
"We had a record year last year for food parcels and I don't think that will change much this year," he told the BBC.
"A lot of people are trying to be careful with their energy budget. People struggle to have the cooker go on for a full-blown meal."
When Rishi Sunak pledged in January to halve inflation by the end of the year, many experts were already forecasting the rate would drop.
Responding to the latest figures, the prime minister said the pledge had been his "top priority" and required "hard decisions and fiscal discipline".
Chancellor Jeremy Hunt added that government had played an "important role" by being "disciplined on spending, helping people into work and resisting calls for additional borrowing".
But Labour's shadow chancellor Rachel Reeves said that while lower inflation would grant "some relief for families", now was not the time for Conservative ministers to be "popping champagne corks and patting themselves on the back".
Despite October's fall, the UK is still some way off meeting the Bank of England's 2% inflation target and the Bank's policymakers have pointed out in recent weeks that interest rates are unlikely to be cut in the near future.
The ONS said that energy and food prices were still above where they were two years ago. It is also possible that the energy price cap for next year, which is unveiled next week, could show energy prices are set to rise again.
UK inflation also remains higher than other countries including the US, France and Germany.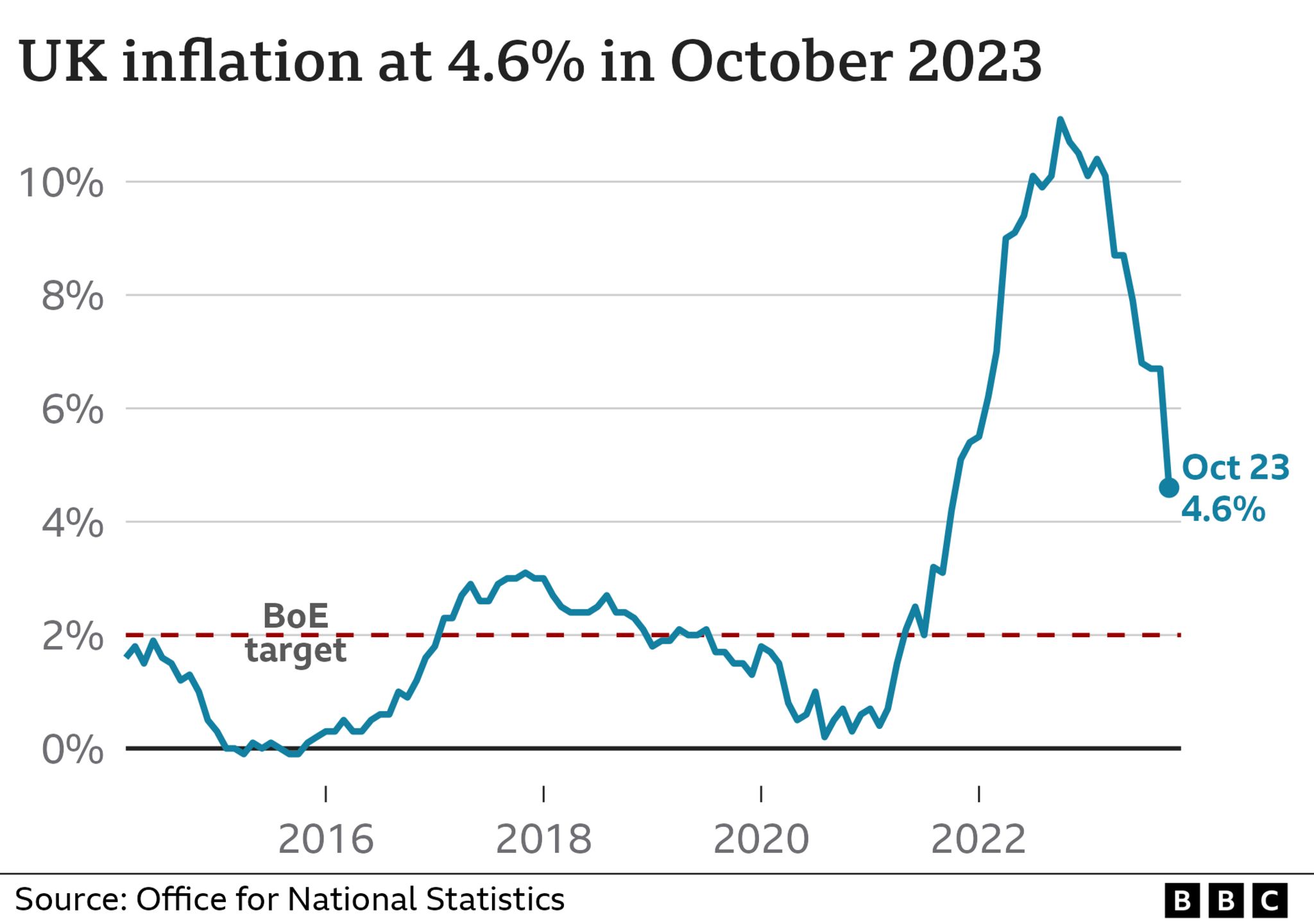 What can I do if I can't afford my energy bill?
Check your direct debit: Your monthly payment is based on your estimated energy use for the year. Your supplier can reduce your bill if your actual use is less than the estimation.
Pay what you can: If you can't meet your direct debit or quarterly payments, ask your supplier for an "able to pay plan" based on what you can afford.
Claim what you are entitled to: Check you are claiming all the benefits you can. The independent MoneyHelper website has a useful guide.   bbc.com