Tina Turner, resilient singer hailed as the 'Queen of Rock and Roll,'
When Tina Turner, who has died aged 83, walked out on her abusive husband Ike in Dallas, Texas, she feared it would spell the end of her showbusiness career. It was 1976, and she had been performing with Ike for two decades, since she had first jumped onstage and sang with his band at the Manhattan club in East St Louis, Missouri. Yet, although she was desperate and had only 36 cents in her pocket, she was on her way to a renaissance as one of the most successful performers in popular music during the 1980s and 90s.
She had to endure several lean years, but a turning point came in 1983, when David Bowie told Capitol Records that she was his favourite singer. A version of Al Green's Let's Stay Together followed. Produced by the electropoppers Martyn Ware and Ian Craig Marsh from Heaven 17, the track went to No 6 in the UK, then cracked the US Top 30 the following year.
Turner cemented the upturn in her fortunes with the album Private Dancer (1984). Driven by the huge hit What's Love Got to Do With It? (her first American No 1), the album became a phenomenon, lodging itself in the American Top 10 for nine months and going on to sell more than 10m copies. Suddenly Turner was one of the biggest acts in an era of stadium superstars such as Michael Jackson, Dire Straits and Phil Collins.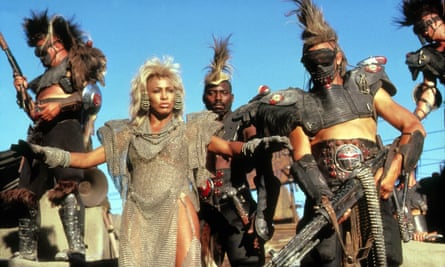 In 1985 she was recruited to play Aunt Entity in the film Mad Max: Beyond Thunderdome, for which she recorded another international chartbuster, We Don't Need Another Hero. A second Thunderdome single, One of the Living, won her a Grammy award, and she was an automatic choice to join the Live Aid benefit concert in that year, as well as to participate in its American theme song, We Are the World.
Her follow-up album, Break Every Rule (1986), launched Turner on a global touring campaign, during which a crowd of 184,000 watched her in Rio de Janeiro. The tour spun off a double album, Tina Live in Europe (1988).
The album Foreign Affair (1989) sold 6m copies and generated another trademark anthem, The Best, which was subsequently used to add oomph to numerous TV commercials and adopted both by the tennis ace Martina Navratilova and the racing driver Ayrton Senna. The subsequent Foreign Affair tour ended in Rotterdam in 1990, after which she duetted with Rod Stewart on the old Tammi Terrell/Marvin Gaye hit It Takes Two. Designed as the theme for a Pepsi advert, the track was a chart hit across Europe.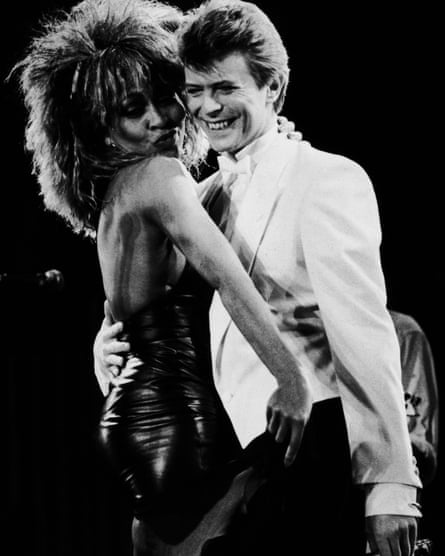 Turner was born Anna Mae Bullock in Nutbush, Tennessee, to Zelma Currie, a factory worker, and her husband, Floyd Bullock, a Baptist deacon. Abandoned by their father and temporarily by their mother, in 1956 Annie and her elder sister, Alline, moved to St Louis, Missouri, where they encountered Ike Turner and his band the Rhythm Kings. After Annie had talked the initially reluctant Ike into letting her sing with the band, he recruited her as one of his backing singers.
It was in 1960 that Tina – who had by then changed her name because it reminded Ike of the cartoon character Sheena, Queen of the Jungle – first sang a lead vocal with Ike's band. A session singer failed to turn up, and Tina's stand-in performance of A Fool in Love was a hit on both the pop and R&B charts. Ike immediately rebuilt his act around Tina, and christened it the Ike and Tina Turner Revue. They married in 1962.
Featuring nine musicians and a trio of skimpily dressed backing singers, the Ikettes, the Revue took the R&B circuit by storm. Tina rapidly developed into a mesmerising performer, radiating raw sexuality and bludgeoning audiences with the unvarnished force of her voice. They began to pepper the charts with hits, including I Idolise You, Poor Fool and Tra La La La La, and even if they only intermittently crossed over from the R&B charts to the pop mainstream, the band's performing reputation was second to none. Evidence of their stage prowess was preserved on the 1965 album Live! The Ike and Tina Turner Show, recorded on tour in Texas.
However, the seeds of the couple's destruction were being sown in their successful but intense lifestyle. Ike was a habitual womaniser, and also developed a destructive cocaine habit. This provoked violent outbursts against Tina, who, as she later revealed in her 1986 autobiography, I, Tina, was beaten, burned with cigarettes and scalded with hot coffee. She gained a glimpse of what life beyond Ike's intimidating orbit might be like when she worked with the "Wall of Sound" producer Phil Spector in 1966. To Ike's frustration, Spector refused to allow him in the studio while he worked on the single River Deep, Mountain High, which subsequently became regarded as a high point of both Spector's and Turner's careers.
The Turners' work won them the admiration of many of their peers, not least the Rolling Stones, who invited them to open a UK tour for them in 1966, then to join them on their American tour in 1969. Mick Jagger was regularly spotted at the side of the stage during Tina's performances, fascinated by her stage presence and dance routines. One of the high points of Live Aid in 1985 was Tina and Jagger performing together at JFK Stadium in Philadelphia.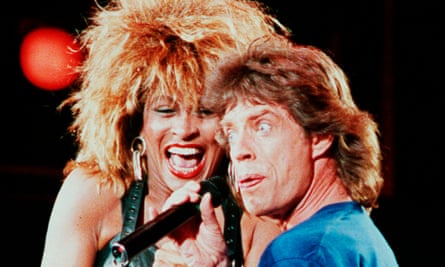 Working with the Stones prompted the Turners to import a rock-orientated edge into their work, a ploy that worked most successfully when they recorded John Fogerty's Proud Mary in 1971. It was their first million-selling single and a Top five hit on the American pop charts. In 1973 they notched up another landmark with Tina's feisty composition Nutbush City Limits, inspired by her Tennessee origins. She took the role of the Acid Queen in Ken Russell's film of The Who's rock opera, Tommy (1975): her performance was one ofits few critically acclaimed moments, though her spin-off solo album, The Acid Queen, made little impression on the charts.
After her split from Ike, Tina stayed with friends and was forced to survive on food stamps. When their divorce was finalised in 1978, she preferred to take no money or property from the settlement, to establish a complete break from her husband. She earned cash from TV guest appearances on the Donny & Marie and the Sonny & Cher shows, but her late-70s albums Rough and Love Explosion sold poorly.
In 1980 she signed a management deal with Roger Davies, an Australian promoter working in the US, who secured some lucrative engagements in Las Vegas. The following year the Rolling Stones galloped to the rescue once again by booking her as the opening act on their Tattoo You tour of the US, and she also appeared with Stewart in a California concert broadcast internationally by satellite.
By the time she was inducted (with Ike, though he was then in jail) into the Rock and Roll Hall of Fame in 1991, Turner had little left to prove. She was able to spend more time at the homes in Switzerland and the Cote d'Azur that she now shared with the German record executive Erwin Bach. A singles collection, Simply the Best (1991), reeled in more platinum discs as Turner entered the senior stateswoman phase of her career.
In 1993, as she launched her first US tour in six years, her film biography, What's Love Got to Do With It, based on I, Tina, was released, starring Angela Bassett as Turner. The film brought forth a bestselling soundtrack album and another hit single with its opening track, I Don't Wanna Fight.
A three-disc anthology, The Collected Recordings – Sixties to Nineties, appeared in 1994, and the following year came Turner's recording of GoldenEye, the theme tune of the eponymous James Bond movie. The tour that accompanied her eighth studio album, Wildest Dreams (1996), became another record-breaker, grossing more than $100m in Europe alone. Twenty Four Seven (1999) teed up what Turner announced would be her last major arena and stadium tour. She had intended to tour with Elton John, but the idea was scrapped after she argued with him about the piano arrangement for Proud Mary during rehearsals for a TV special, Divas Live '99. Her subsequent solo dates became the top-grossing tour of 2000.
A quiet period ensued, during which Turner confined herself to hand-picked events, such as a 2005 performance on the Oprah Winfrey Show. She contributed a version of Edith and the Kingpin to River: The Joni Letters (2007), a tribute album produced by Herbie Hancock. She performed alongside Beyoncé at the Grammy awards in 2008.
That October she went back on the road with the Tina! 50th Anniversary Tour, synchronised with the compilation album Tina: The Platinum Collection. In 2010 she became the first female artist to score top 40 hits in the UK in six consecutive decades (1960s-2010s) when The Best bounced back into the UK Top 10. Her Love Songs compilation appeared in 2014, and her remix of What's Love Got to Do With It with the Norwegian DJ Kygo in 2020 made for a seventh decade containing UK hits.
Between 2009 and 2014 Turner appeared on four albums by Beyond, an all-woman group formed with her neighbours in Küsnacht, near Zürich. The music reflected the spiritual and religious beliefs of the participants, with Turner considering herself a Baptist-Buddhist (she was raised as a Baptist, but began practising Nichiren Buddhism in 1973).
In 2013 she married Bach and gave up her American citizenship to become a Swiss citizen. Three weeks after the marriage she suffered a stroke, and in 2016 she was diagnosed with intestinal cancer, then suffered kidney failure when "the toxins in my body had started taking over", as she put it in her second autobiography, Tina Turner: My Love Story (2018). Her husband volunteered to give her one of his kidneys and a transplant operation was carried out successfully in 2017.
The following year, the biographical stage musical Tina opened at Aldwych theatre in London, directed by Phyllida Lloyd and starring Adrienne Warren in the title role. Turner received a Grammy lifetime achievement award, to go with her existing tally of eight Grammy awards and three Grammy Hall of Fame awards. Among her vast collection of honours, Turner also had five American Music awards, two World Music awards and three MTV Video Music awards.
In 2021 she joined the Rock and Roll Hall of Fame as an outright solo performer and sold the rights to her music catalogue to the publishing company BMG for an estimated $50m. Ready to retire fully, she bade farewell to her fans with the two-part HBO documentary Tina.
Alline died in 2010. Tina's eldest son, Craig, from a relationship with the saxophonist Raymond Hill, took his own life in 2018. Ronnie, her son with Ike, died in 2022.
She is survived by Erwin and two sons, Ike Jr and Michael, from Ike's first marriage.