F1 British Grand Prix: Silverstone track invaders risked harm, court hears
Five people said to have invaded the track at the start of the F1 British Grand Prix posed a serious risk of harm to drivers and marshals, a court heard.
The invasion by climate activists from the Just Stop Oil group took place at Silverstone, Northamptonshire, in July, Northampton Crown Court was told.
Prosecutor Simon Jones said they "could have been struck by fast-moving vehicles with severe consequences".
Six people deny causing a public nuisance at the circuit.
The defendants are David Baldwin, 47, of Stonesfield, Oxfordshire; Emily Brocklebank, 24, of Yeadon, Leeds; Alasdair Gibson, 22, of Aberdeen; Louis McKechnie, 22, of Manchester; Bethany Mogie, 40, of St Albans, Hertfordshire; and Joshua Smith, 29, of Lees, Oldham.
Mr Jones told the court: "It is not in dispute that five of the defendants in this case – all of them save for David Baldwin – made it on to the racetrack and they did not have permission to be there."
The court heard Mr Baldwin was found in a car park along with glue, cable ties and a Just Stop Oil banner and was said by the Crown to have been "in it together" with his co-defendants.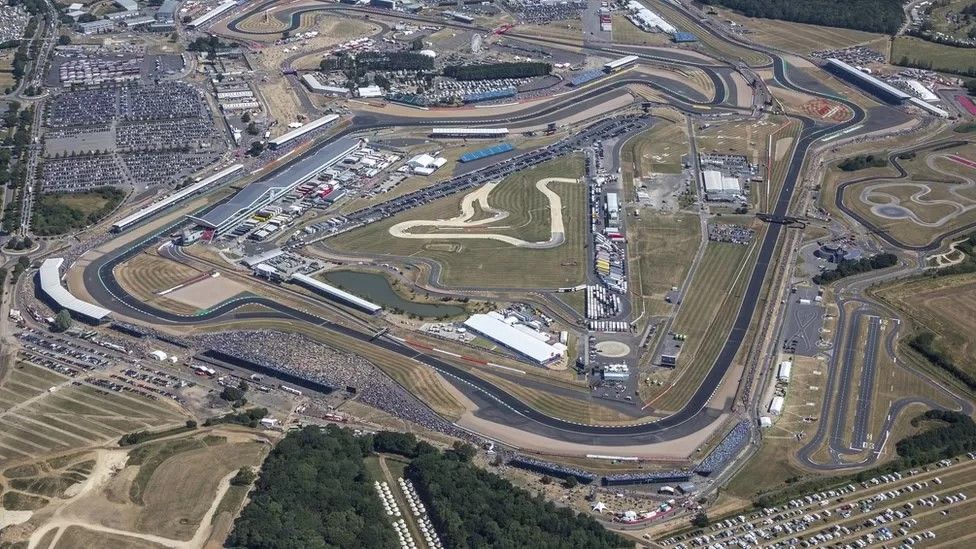 Video was played to the jury showing F1 stars Yuki Tsunoda and Esteban Ocon driving past five protesters, who were sitting on or being dragged off the track.
Footage recorded by Lewis Hamilton's car passing protesters shortly before the track invasion was also shown to the court.
Video was also played to the jury of statements recorded by five of the accused the day before the protest, claiming the world was "being destroyed for the benefit of a few people".
"They will inevitably say that this was done as an act of protest and in order to bring publicity to the cause, and demand they make no new oil and gas licences," Mr Jones said to the court.
"The prosecution say that there was clearly an immediate risk of serious harm being caused.
"Plainly, they could have been struck by fast-moving vehicles with obvious severe consequences."