Formula 1: 'The fastest car I have seen' – rivals marvel at Red Bull
Sergio Perez drove what his team principal Christian Horner called his "best grand prix" to hold off team-mate Max Verstappen and win in Saudi Arabia, but the big Formula 1 story on Sunday was just how far ahead Red Bull are of everyone else.
It was a confirmation more than a surprise, for Red Bull's advantage was obviously huge at the opening race of the season in Bahrain two weeks previously. But no less dispiriting for their rivals for that.
A safety car closed up the field at two-fifths distance, and gave Verstappen the chance to fight for victory that would have been impossible until then.
And as the two Red Bulls went at it hammer and tongs at the front – both pushing flat-out as Verstappen sought to close the five-second gap to Perez, and the Mexican sought to defend it – they pulled away from Fernando Alonso's Aston Martin behind them at a second a lap, and sometimes more even than that.
Lewis Hamilton – who knows a thing about domination, having experienced it for a number of years with Mercedes – said he had "never seen a car so fast".
"When we were fast, we weren't that fast," the seven-time champion said. "That is the fastest car I have seen compared to the rest."
His team principal Toto Wolff disagreed – "we have had those years when we were as strong," he said – but then underlined the hard truth that Red Bull are demonstrating this year, just as Mercedes did from 2014-16 and again in 2020.
"It is a meritocracy," Wolff said. "Even if it is not great for the show that the same guys win all the time, it is because they have done a good job and we haven't.
"We shouldn't down-talk it, because I remember hearing questions like that in 2014-2020, and what makes the sport so special is that you need to work hard to win and you deserve it as a matter of fact.
"Entertainment follows sport. It is maybe not good from the commercial side but it is what makes F1 so special."
Special is certainly the right word to describe Red Bull's new car, the RB19.
A development of a design with which Verstappen last year broke the record for wins in a season, it has pushed Red Bull into "a different league", as Ferrari's Charles Leclerc has put it, and looks certain to go down in history as one of the greatest F1 cars ever.
It is another another masterpiece to be produced by a team under the leadership of the sport's most celebrated designer, Adrian Newey.
Even Red Bull are surprised by the extent of their advantage, Horner admitted after the race. Asked if he understood why they had managed to eke out such a lead over their rivals, he said: "Not really, but you can only focus on yourselves.
"And all testament to the team in Milton Keynes who have done a wonderful job over the winter. It has been the best start to a season we've ever had."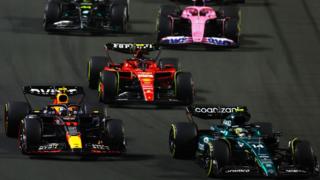 It all began well for Alonso, who took the lead off the line from Perez and dreamed of a first F1 win for a decade
Excellence from Perez
After two races, Red Bull have achieved one-twos in both, Verstappen leading Perez home in Bahrain, the order reversed in Saudi Arabia after the world champion suffered a driveshaft failure in qualifying and was consigned to 15th on the grid.
So fast had Verstappen looked through practice in Jeddah that there were those who felt he might be able to win the race even from there – as he had from just one place higher in Belgium last year.
But that was reckoning without the excellence achieved by Perez on Sunday.
Verstappen had always thought that winning would be "a stretch". And by lap 18, the natural delaying factor of field spread and passing other cars had put Verstappen 20 seconds or so behind his team-mate.
But then the safety car came out and bunched up the field. Now Verstappen was right with his team-mate, only George Russell and Alonso between the two Red Bulls.
Perez managed to pull out a five-second lead in the three laps it took for Verstappen to clear the Mercedes and Aston Martin. It was half-distance, with 25 laps to go and, given Verstappen's normal advantage over Perez, the win looked very much on.
Perez, though, had an answer – on this day at least – to everything Verstappen threw at him.
In paying tribute afterwards, Horner mentioned Perez's wins in Monaco and Singapore last year – also street circuits, even if very different in character to high-speed Jeddah.
"He has always excelled at this type of circuit," Horner said. "He seems happy in the car, his confidence is high, and we have seen him deliver so many top-drawer performances. Street circuits are something he really seems to relish."
With a win and a second place each from two races, Verstappen leads the championship by virtue of the point he scored for setting fastest lap on the final tour of the race.
"Both drivers had the info," Horner said. "Checo asked what the fastest lap was. He knew Max would have a crack at it and Checo gave it up after the first couple of turns – he was already 0.15secs down."
Verstappen's race was punctuated by a scare late on, when he heard a high-pitched noise at high-speed and told the team he felt the driveshaft failure that had scuppered his chances in qualifying was returning.
The engineers checked and could see nothing wrong, and battle was resumed. But Verstappen took the opportunity to issue a none-too-subtle reminder of the potential damage that could be caused by poor reliability.
"When you're fighting for a championship and especially, you know, when it looks like it's just between two cars, we have to make sure that also the two cars are reliable," he said.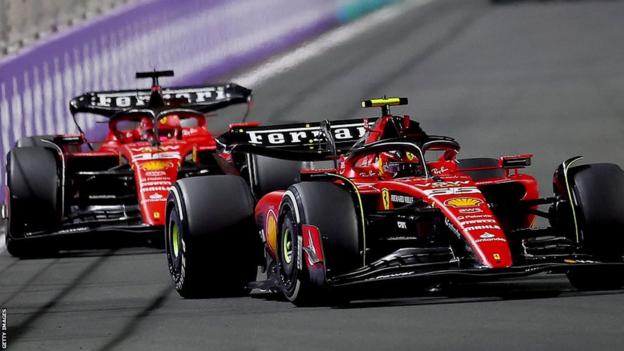 Some hope for Red Bull's rivals
In F1, it is rare that a team that starts with such an advantage is ever caught during the season in question. Few expect this year to be any different. But there are other factors at stake that are giving Red Bull's rivals at least some hope.
Part of the major package of rule changes that was introduced in 2022 with the aim of closing up the field – which, on that front at least, have clearly failed – was a sliding scale of aerodynamic research.
The most successful team of the previous season is permitted the least amount of R&D time the following year, and the least successful the most. The positions are reviewed at half-distance of a given championship to reflect the standings at that time.
So Red Bull have less opportunity to develop their car than anyone else, and have the extra hit of a 10% further reduction as part of their penalty for being found guilty of exceeding the budget cap in 2021.
"It was so critical for us to come out of the blocks competitively," Horner said. "The wind tunnel reduction has applied since last October, so we couldn't afford to miss the target, because you'd never be able to engineer your way out of it with that handicap.
"To be one point off a maximum score, I don't think we could have dreamed of that."
Alonso, who has been the surprise of the season so far with a team who finished seventh last year, has no delusions about regularly challenging Red Bull. But he does scent the possibility of a win, which would be his first for 10 years.
He pointed out that, sooner or later, reliability or other problems are bound to hit Red Bull in one race or another, as they did Verstappen in qualifying in Jeddah.
"We need some help from them," Alonso said. "But it will happen eventually. They cannot always finish first and second. At some circuits maybe reliability or whatever could help us and hopefully in those races we take the opportunity."
As for Mercedes, having accepted they made a mistake in sticking with their current car concept, they have fashioned a new development direction since the first race, and Wolff is already talking about the team finding "really big steps" and being in a position to win by the end of the year.
Is that really realistic, he was asked?
"No," he said, "it is not realistic. But we just want to give it all we have and see what the outcome is. We have been able to catch up a lot last year and won a race and got close to them and that needs to be the aspiration.
"It is our duty. We will put all we have to catch up and fight these guys."
But it was Leclerc who summed up the most likely reality for anyone not Red Bull.
Leclerc qualified second to Perez, but was demoted 10 places for a penalty arising from his engine failure during the race in Bahrain. He finished seventh, having got as far in his comeback drive as the back of team-mate Carlos Sainz before getting stuck.
"I don't think there was much more in the car today," Leclerc said. "We just need to work to find some pace."
How much work is there to do?
"A lot," Leclerc replied. "Really a lot." – bbc.com