French Open: Is it time for Roland Garros to use electronic line calls?
Seeing a chair umpire jump down to the court, scamper across the clay and point out the mark of a ball is one of the great traditions of the French Open.
The scene adds to the spectacle. A sense of anticipation hangs in the air, whistles or cheers from the Paris crowd – depending who the decision is for – accompany the official to the spot.
But, in a sport of high stakes and fine margins, is it time to stop relying solely on the human eye to decide crucial points?
At the recent Italian Open, Britain's Andy Murray was annoyed when a line call went against him because the umpire ruled the ball mark was on the line.
Murray strongly disagreed. Electronic line calling technology – not used at the Rome tournament but seen by television viewers – supported the former world number one's view.
The incident reignited a long-running debate whether an electronic system should be brought on to all courts – including Roland Garros' famous terracotta surfaces.
Is the technology unreliable on clay?
Unlike the other three Grand Slam tournaments, which are played on hard or grass courts, the French Open does not use the technology in any form.
The Australian Open and US Open – both played on hard courts – have already dispensed with human line judges in favour of solely relying on automated calls.
Wimbledon, played on grass, introduced Hawk-Eye technology in 2007 but the line judges remain. Players at the Championships are able to challenge calls up to three times per set.
The French Open continues to fully trust line judges and umpires, not allowing players to use electronic replays to challenge human decision.
For a long time it has been felt the red brick dust – a top layer of one to two millimetres – compromises the accuracy and reliability of an electronic system because it is a 'live' surface which moves during the match.
That has led to continuing issues of confidence from players, commentators and fans.
But Foxtenn – one of three systems used to judge line calls in tennis, alongside Hawk-Eye and IMG Arena – insists it is reliable.
Foxtenn is the only vendor which has so far operated an electronic line calling system on clay courts.
It says its 'real bounce technology' – which uses ultra-high-speed cameras capable of generating more than 100,000 images per second in combination with a laser scanner system – is suitable for the surface.
"It delivers perfect and constant real-time calibration," say the Barcelona-based company.
"It basically catches everything that happens on the court; anywhere from minute detail to every unthinkable angle."
Why doesn't the French Open use it?
Last month, the ATP Tour – the top tier of men's events – announced line judges will be replaced by an electronic calling system on all surfaces on a full-time basis from 2025.
The WTA, the governing body of women's tennis, told BBC Sport it has "been reviewing" going full-time with electronic line calling and is "very interested" in making a similar move to the ATP.
Remy Azemar, the French Open's head of referees, acknowledges the technology has been successful at other tournaments.
Yet the resistance remains firm.
Two factors fuel the French Open's reluctance to change: maintaining traditions synonymous with the 100-year-old tournament and an unwillingness to cede human control.
"Without the presence of the line judge, it is indeed very robotic," said Azemar. "But we must also recognise that it works.
"Will it make the game look a bit colder and emptier on the court? Everyone can have an opinion on that, it's not for me to answer."
France is widely considered one of the strongest nations when it comes to developing officials and Azemar says Roland Garros has "nothing to prove" in terms of its quality of officiating.
"As long as the human referee remains in charge, we are a little less directly concerned. We keep the freedom to make our decisions," he said.
Will we ever see it at Roland Garros?
With an increasing number of tournaments relying on electronic line calling, the French Open is fast becoming an outlier by sticking with tradition.
Foxtenn and Hawk-Eye have already been approved as a review system on clay with line judges, with Foxtenn being used at ATP events in Barcelona, Estoril, Madrid and Bastad last year.
No vendor has yet been approved to make sole decisions without the officials. Final testing of the automatic technology on clay is continuing.
The ATP, the men's governing body, said its impending move will "optimise accuracy and consistency across tournaments, match courts and surfaces".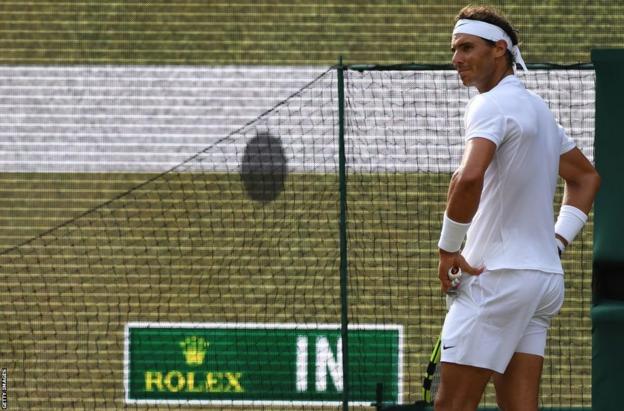 Last season, there were 30 WTA events which used electronic line calling – including 13 that did not have line umpires.
Only two WTA clay-court events – Madrid and Iasi – used an electronic line calling review system in 2022.
With an even heavier reliance on the technology on the horizon, Azemar conceded the French Open could be forced into change.
"If 98% or 99% of the tournaments in the season are played without line judges, we will be backed into a corner," he said.
"I think we have to weigh things up carefully and give ourselves time. But we can also be caught up by reality."
What disputes have there been recently?
Disputes over line calls are regular occurrences during the European clay-court season and there were a number of notable examples during the recent Italian Open.
Murray's disagreement with Mohamed Lahyani in Rome blew up because of the three-time major champion's huge profile – and his heated reaction.
Lahyani was also involved in another similar incident in Rome. The Swedish umpire made a decision that left Danish player Holger Rune furious in a quarter-final against Novak Djokovic, which he eventually won.
Rune questioned whether officials were punished for "mistakes", as did Russia's Veronika Kudermetova who remonstrated with the chair umpire in her quarter-final.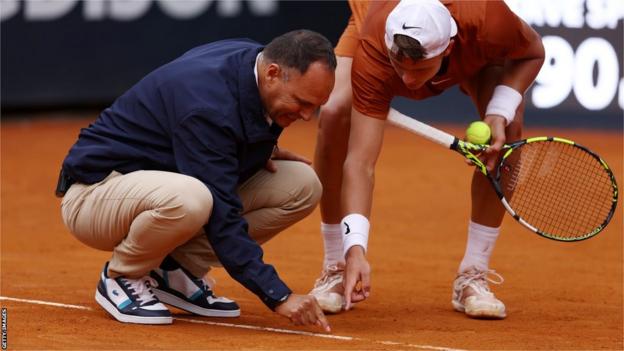 At the French Open, there was a high-profile incident in 2021 that could have had even more damaging consequences.
In a dramatic semi-final against Greece's Maria Sakkari, Czech player Barbora Krejcikova was denied victory when chair umpire Pierre Bacchi overruled a call from a line judge on match point.
Television replays indicated the ball was out, leading Murray – watching on the television – to say Bacchi had made an "absolutely brutal error".
Krejcikova brushed off the disappointment, took another match point and won her maiden Grand Slam singles title two days later.
These disputes illustrate the confusion which still remains around clay-court marks. Whether the wrong mark has been checked, or the mark is not a true representation because of physics, tension can be created as a result.
"I don't mind that it's like this with line umpires judging," said Rune. "But it's about how you read the mark. Sometimes it is wrong."
Until the governing bodies are satisfied the technology is more accurate than the human eye, the drama over disputes will continue – perhaps over the next weeks at Roland Garros. – bbc.com