Justin Bieber cancels Justice tour dates after Ramsay Hunt syndrome diagnosis
Justin Bieber has cancelled the remaining dates of his Justice world tour, following health issues.
The 29-year-old singer has postponed the tour several times, telling fans last summer that he was suffering from facial paralysis, after a diagnosis of Ramsay Hunt syndrome (RHS).
He said in September 2022 that he wanted to make his "health a priority".
The tour's official Twitter page posted Tuesday that ticket holders would receive a refund.
The Canadian had been due to play shows in the US, Australia and Europe, including a date in Manchester this Saturday (4 March).
The BBC is not responsible for the content of external sites.View original tweet on Twitter
Some of his fans have previously expressed their dismay about not receiving refunds for scrapped dates on the tour, which has reportedly grossed $55m (£46m).
The Grammy-winning performer's last album, featuring the likes of Burna Boy, Chance the Rapper and Khalid, brought him more success, reaching number one in the US and number two in the UK chart in 2021.
But he has since said that shows in Europe had "taken a real toll on me" and that he needs more time to "rest and get better".
Bieber took a break from music in 2019 to focus on his mental health. No official reason has been given as-yet for the cancellation of his latest tour.


What is Ramsay Hunt syndrome?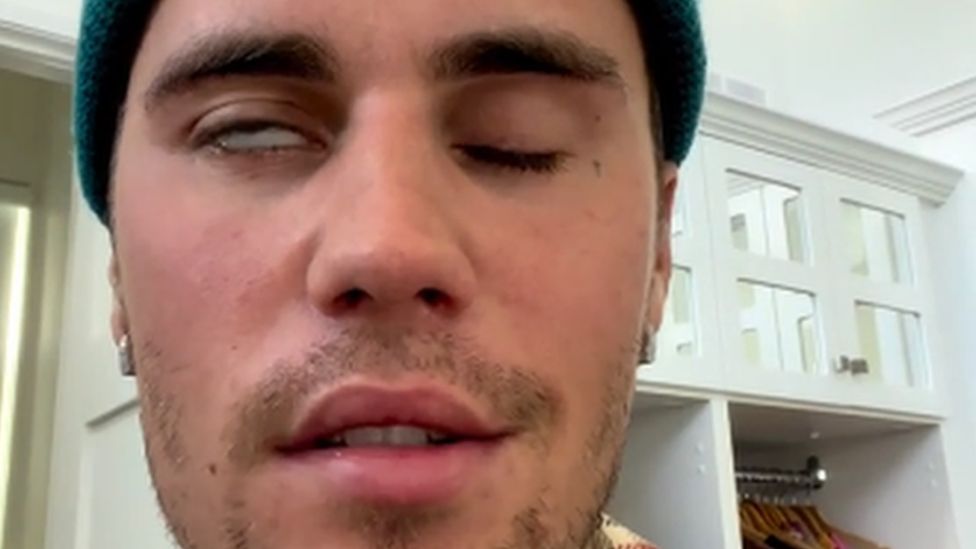 RHS is when a shingles outbreak affects the facial nerve near someone's ears, resulting in paralysis of parts of the face.
It cannot be passed from one person to another, but it is a complication from Shingles, which is linked to the chickenpox virus that many people can get when they're children.
According to the charity Facial Palsy UK, if the immune system becomes depressed and is less able to fight off infection, the body can become vulnerable to a reactivation of the chickenpox virus.
It says stress is often a trigger as it can weaken the immune system, and people who are stressed are more likely to suffer from infections.