MTV VMAs 2023: Taylor Swift and Shakira are the big award winners
Shakira crowd-surfed her way to a lifetime achievement prize at the MTV Video Music Awards, as she performed a career-spanning medley of hits.
The Colombian star put on a spectacular show that saw her dance with knives, writhe in a fake cave and play a fiery guitar solo during Objection (Tango).
Presenting her award, Wyclef Jean said: "Latin music would not be the global force that it is without Shakira."
Taylor Swift was the night's other big winner, earning nine Moon Man trophies.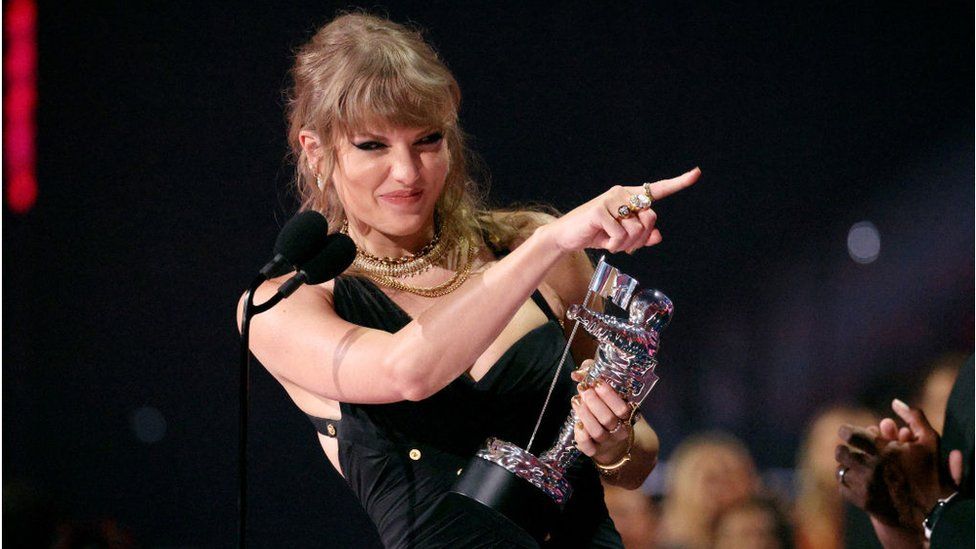 The star won in all but two of the categories where she was nominated, including the night's biggest award – video of the year – in recognition of the self-directed promo for Anti-Hero.
She is the first artist to win video of the year twice in a row, and extended her record for the most wins in that category to four – after previously winning for Bad Blood, You Need to Calm Down and All Too Well: The Short Film.
The star, who is in the middle of the first $1bn stadium tour in history, also took home prizes for song of the year, best pop, best direction, best cinematography and best visual effects, all for Anti-Hero,
She was also awarded album of the year for Midnights, plus artist of the year and show of the summer.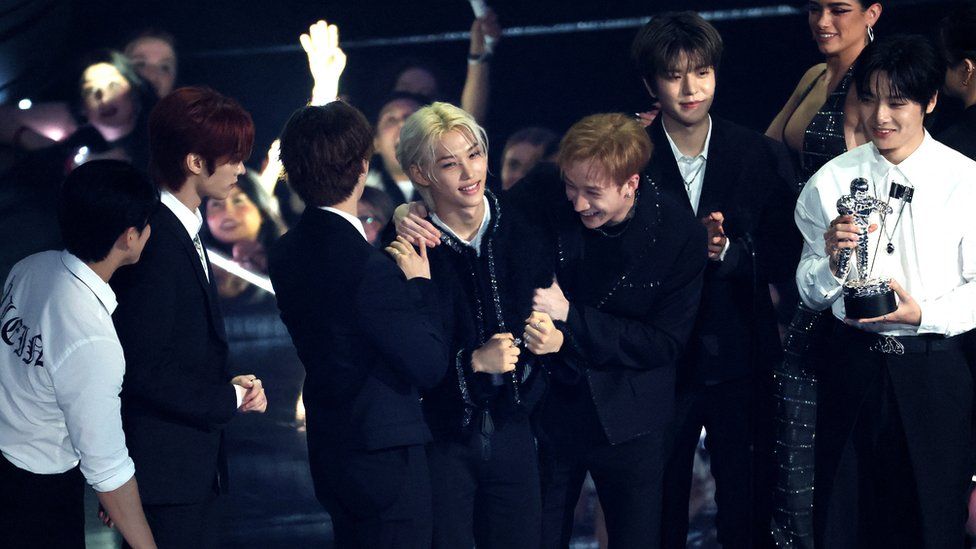 The 33-year-old dedicated her wins to the art of songwriting.
"I love making pop music, I love making pop music videos, I also love making country," she told a star-studded crowd at New Jersey's Prudential Center.
"I love slinking around different genres, and the only reason I'm allowed to do that is because you, the fans, gave me the opportunity to do this."
She also had words for boy band 'NSync, who reunited to present one of her prizes.
"You guys are pop personified so to receive this from your golden pop hands is really, it's too much," she told the group.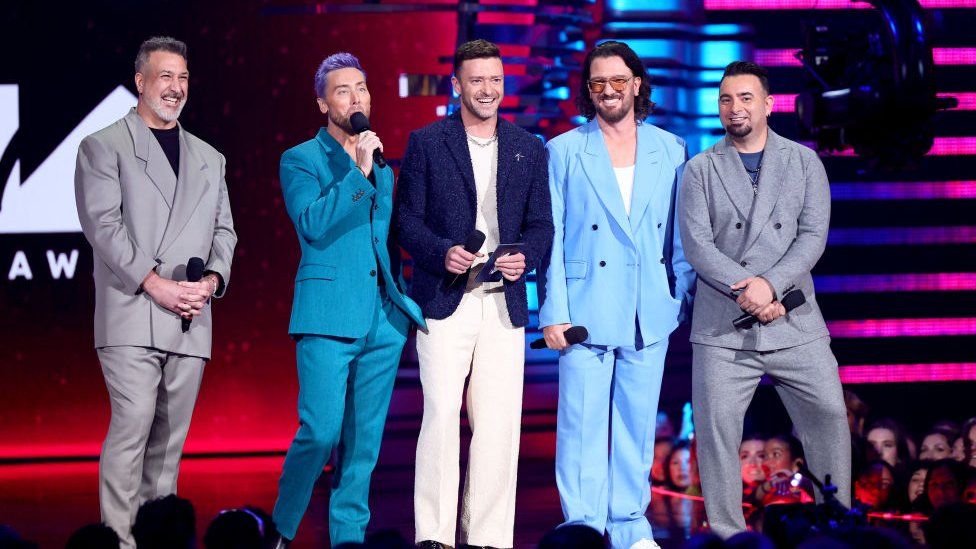 Other winners on the night included rapper Ice Spice, who took home best new artist, and K-pop group Blackpink, who became the first girl band to pick up best group since TLC 24 years ago.
It's the fifth time in a row that a South Korean band has won the prize, with Blackpink taking the place of boy band BTS, who are currently on hiatus.
However, BTS's youngest member Jungkook picked up song of the summer for his solo hit Seven, featuring US rapper Latto. This was one of the only categories where Swift was defeated, the other being best video editing, which went to Olivia Rodrigo's Vampire.
The night's only dedicated K-Pop award went to eight-piece boy band Stray Kids for their single S-Class, which they also performed.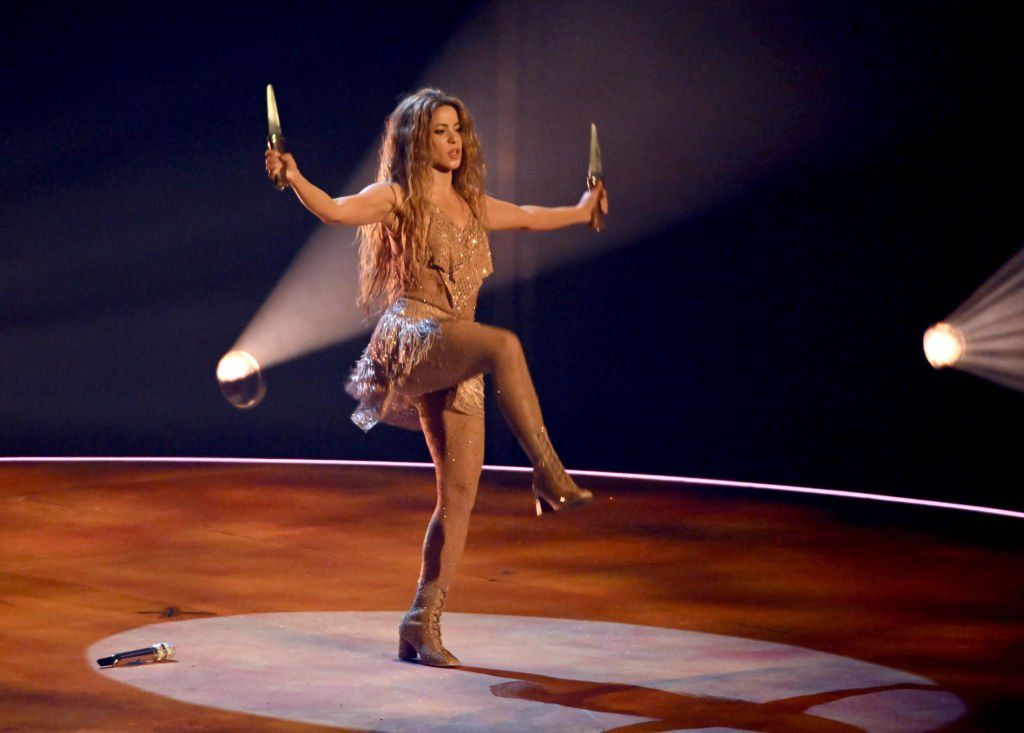 Shakira won the Vanguard Award 33 years after she released her first album, Magia, at the age of 13.
Since then, she has scored several multi-platinum hits including Whenever, Wherever, Hips Don't Lie, Beautiful Liar, Waka Waka and this year's viral hit Bzrp Music Sessions, Vol 53.
In a short speech, she thanked her family and fans, before concluding in Spanish: "This is for my people. The Latin American people inside and outside of this country, thank you for inspiring me and injecting me with so much power and will to keep going. I love you."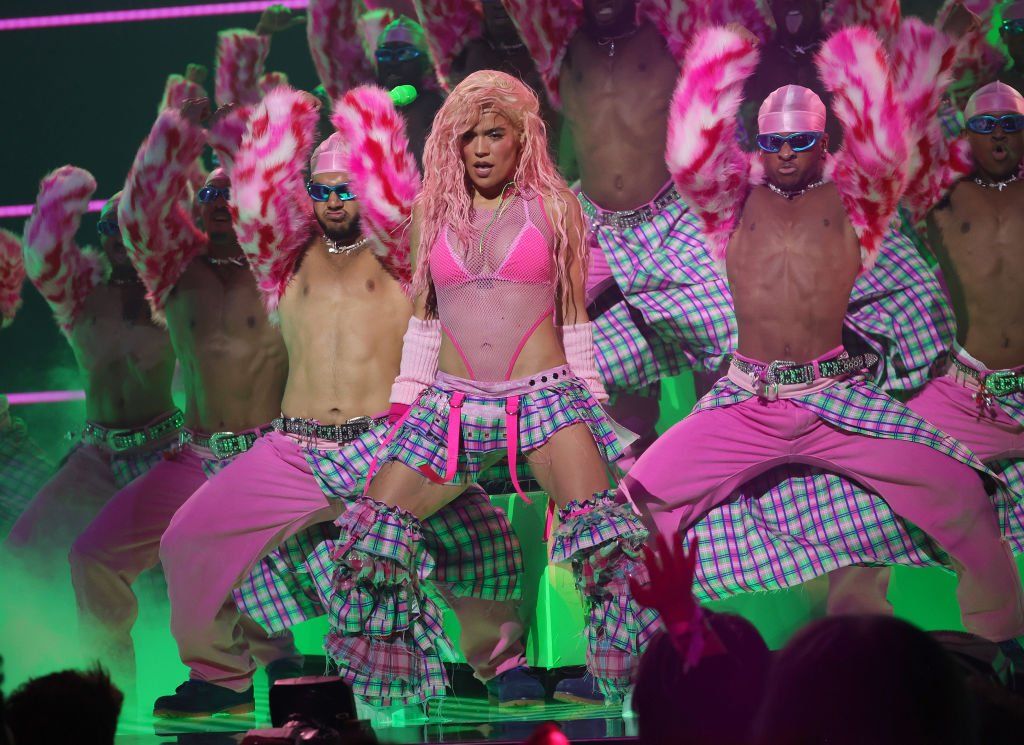 The star picked up a second prize with fellow Colombian star Karol G, for best collaboration on the track TQG.
Karol G, who recently appeared on the Barbie soundtrack, also gave a breathtaking performance of her anthems Oki Doki and Tá Ok.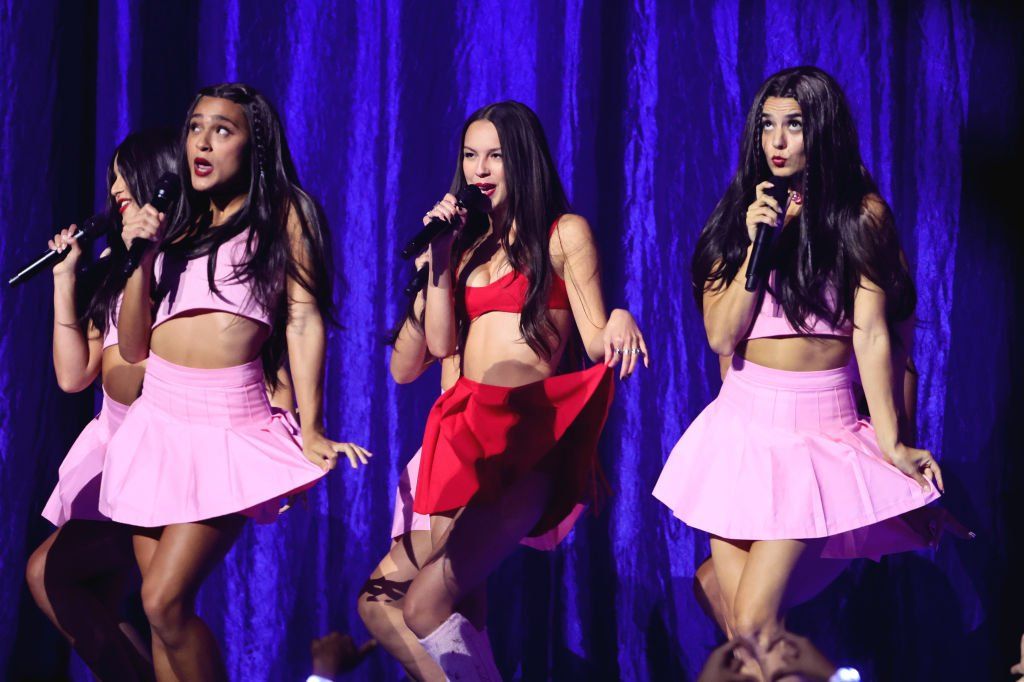 OIivia Rodrigo gave fans a scare with her performance of Vampire – when the stage appeared to malfunction, with pyrotechnics misfiring and parts of the set falling to the ground.
As Rodrigo was led off stage, cameras cut to a shocked Selena Gomez in the audience, apparently worried over the singer's safety.
But the elaborate prank was a reference to the Vampire music video, which features a similar storyline, and the star soon returned to perform Get Him Back, from her new album Guts.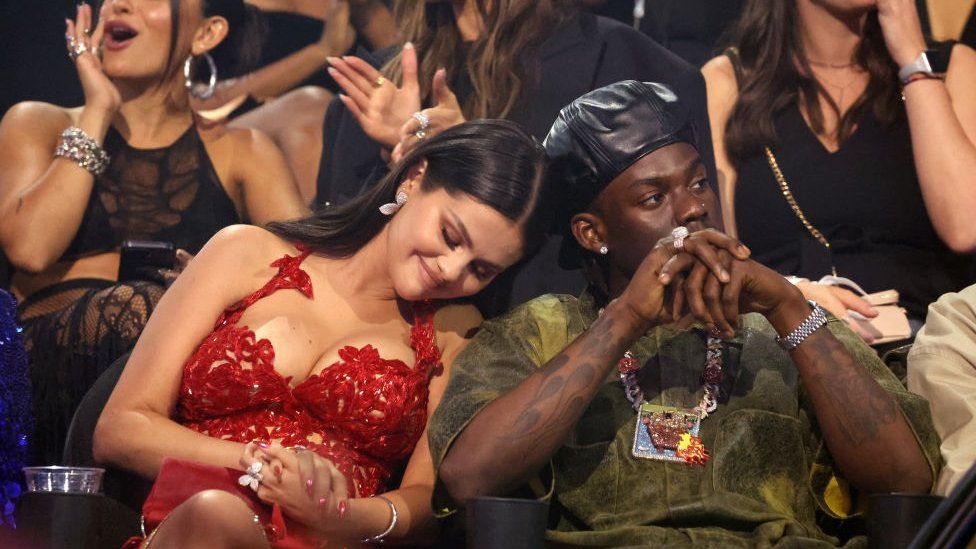 Gomez was also a winner, sharing the trophy for best Afrobeats song with Nigerian star Rema.
The duo's single, Calm Down, has been a fixture in the US charts for 53 weeks, with no signs of slowing down. It is currently at number 10.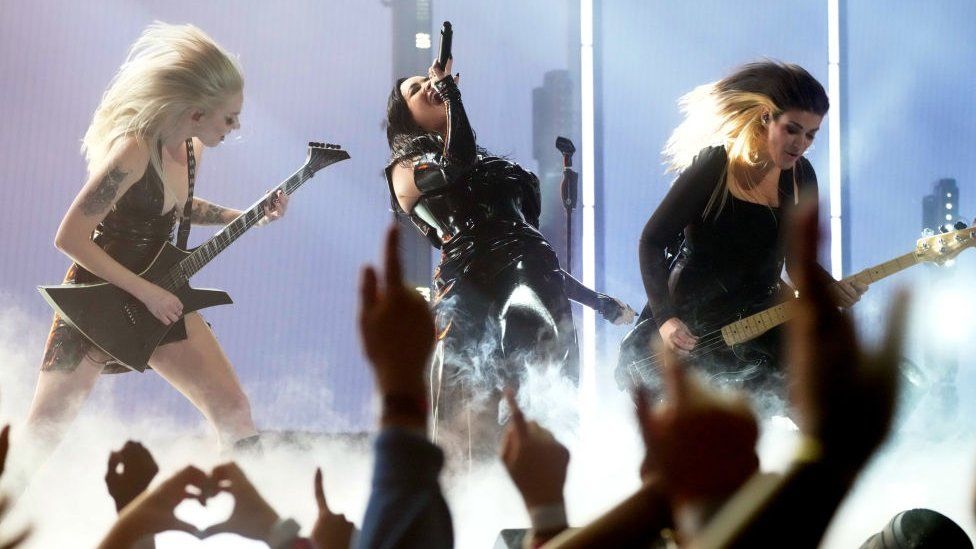 Elsewhere, Demi Lovoato gave a rock revamp to her classic single Cool For The Summer – which had Taylor Swift dancing and singing along.
But the best rock prize went to Italian Eurovision winners Maneskin, for their relatively sedate ballad The Loneliest.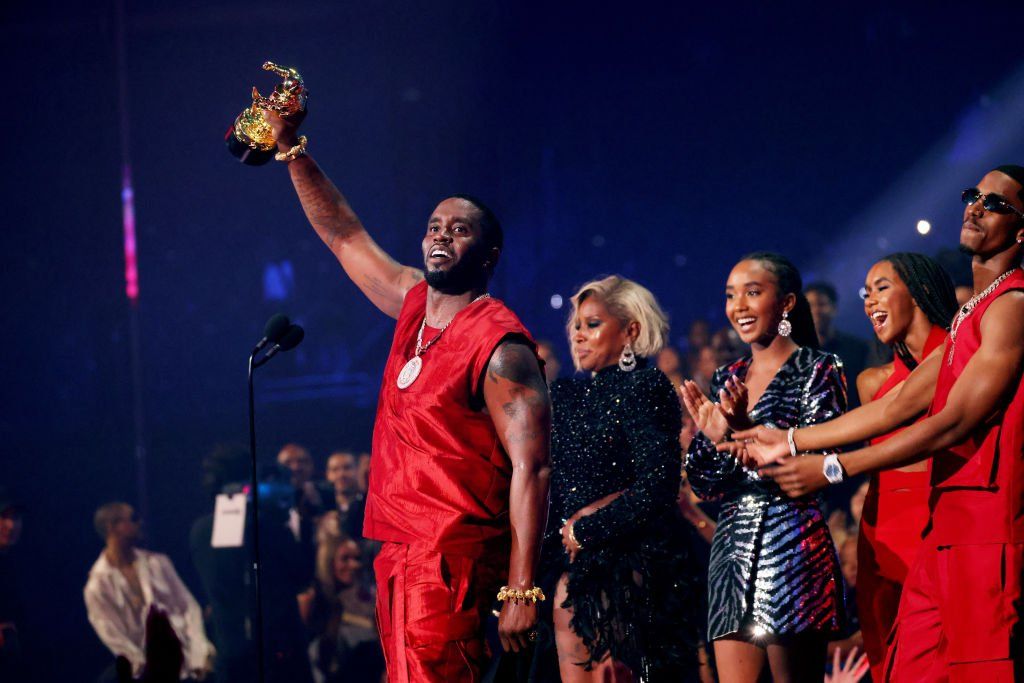 Sean "Diddy" Combs was named MTV's Global Icon, giving a hit-filled performance that included I'll Be Missing You, Bad Boy For Life and All About The Benjamins. The medley even included an as-yet-unreleased collaboration with The Weeknd.
Presenting him with the Icon Award, Mary J Blige said: "Puff's impact on pop culture is immeasurable. His iconic music videos redefined the form. his global influence is forever felt across the entire music industry."
The rapper and music mogul said the award was "a dream come true" for him.
"I grew up watching MTV like, 'Man I wish one day I could be up there'," he told the audience.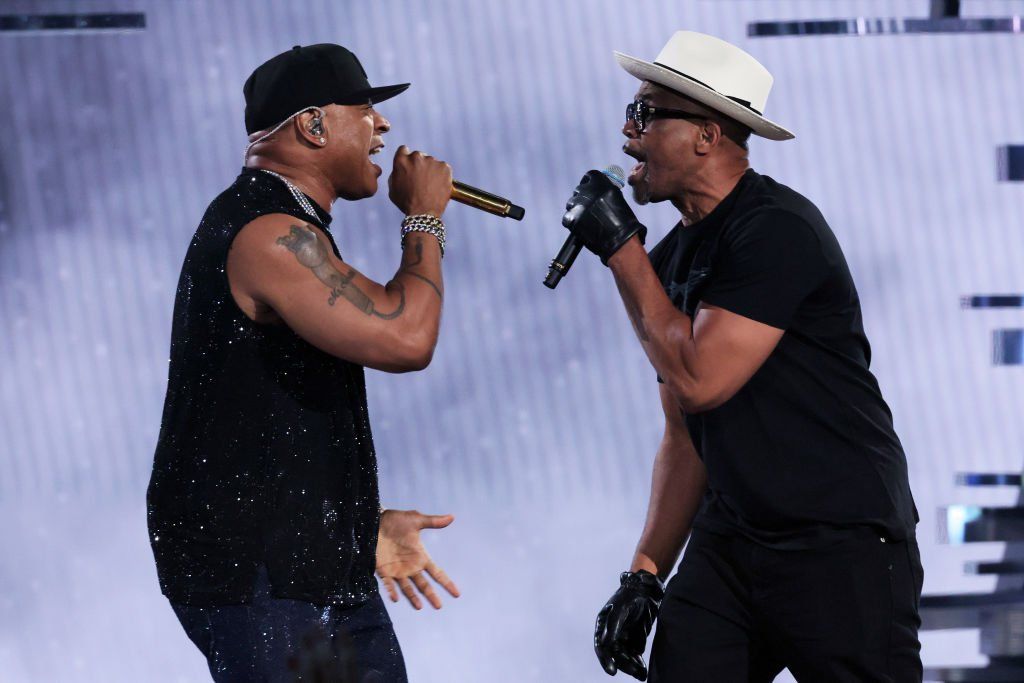 The ceremony lasted almost four hours, a large portion of which was spent celebrating the 50th anniversary of hip-hop, from an opening performance by Lil Wayne to Cardi B and Megan Thee Stallion giving the debut performance of their new single, Bongos.
It ended with an all-star megamix of hip-hop classics, opening with Grandmaster Flash and the Furious Five's The Message, and ending on a rendition of Run-DMC's Walk This Way.
Video of the year: Taylor Swift – Anti-Hero
Artist of the year: Taylor Swift
Song of the year: Taylor Swift – Anti-Hero
Best new artist: Ice Spice
Push performance of the year: April 2023: Tomorrow X Together – Sugar Rush Ride
Best collaboration: Karol G, Shakira – TQG
Best pop: Taylor Swift – Anti-Hero
Best hip-hop: Nicki Minaj – Super Freaky Girl
Best R&B: SZA – Shirt
Best alternative: Lana Del Rey featuring Jon Batiste – Candy Necklace
Best rock: Måneskin – The Loneliset
Best latin: Anitta – Funk Rave
Best K-Pop: Stray Kids – S-Class
Best Afrobeats: Rema & Selena Gomez – Calm Down
Video for good: Dove Cameron – Breakfast
Best direction: Taylor Swift – Anti-Hero, directed by Taylor Swift
Best cinematography: Taylor Swift – Anti-Hero, cinematography by Rina Yang
Best visual effects: Taylor Swift – Anti-Hero, visual effects by Parliament
Best choreography: Blackpink – Pink Venom, choreography by Kiel Tutin and Sienna Lalau
Best art direction: Doja Cat – Attention, art direction by Spencer Graves
Best editing: Olivia Rodrigo – Vampire, edited by Sofia Kerpan and David Checel
Show of the summer: Taylor Swift
Group of the year: Blackpink
Song of the summer: Jung Kook featuring Latto – Seven
Album of the year: Taylor Swift – Midnightso