UK inflation: Food prices 'worryingly high' as sugar and milk soar
Food prices in the UK continued to surge at the fastest rate in nearly 45 years in April, with staples like sugar, milk and pasta up sharply.
The rate at which grocery prices rose slowed marginally in the year to April, but at 19.1% is close to record highs.
It comes as the overall UK inflation rate fell sharply to hit single figures for the first time since last August.
However, it did not decline as much as expected and the chancellor said food prices remained "worryingly high".
Inflation is a measure of the cost of living and to calculate it, the Office for National Statistics (ONS) keeps track of the prices of hundreds of everyday items, known as a "basket of goods".
The rate has shot up over the last 18 months, as food and energy prices have soared, leaving many household feeling squeezed.
Inflation was 8.7% in the year to April – down from 10.1% in March but above the 8.2% figure expected.
However, it does not mean prices are coming down, only that they are rising less quickly.
Chancellor Jeremy Hunt told the BBC the sharp fall was "welcome", but admitted: "There are things underneath those numbers which show that this battle is far from over.
"We've got a long way to go."
Inflation has dropped due to the fact that energy price rises are slowing from the extreme hikes seen a year ago just after Russia, a major oil and gas producer, invaded Ukraine and was hit with sanctions.
Ukraine is also a big producer of grains and sunflowers, which are used in everything from bread to oil and animal feed. Wholesale food prices have risen because the war has disrupted Ukraine's shipments.
Extreme weather has also hit crops, including the beets used to make sugar as well as some vegetables.
However, while food price continue to rise at near-record rates, the prices of staples like bread, cereal, fish, milk and eggs are rising slightly less quickly.
"If you look at what prices businesses are facing and how much they're paying for domestic food materials, that has come down from over 15% annually last month to under 10% this month," ONS chief economist Grant Fitzner said.
The prices that companies are paying for imported foods have also fallen "considerably".
However, he said: "Of course, those aren't reflected on supermarket shelves yet."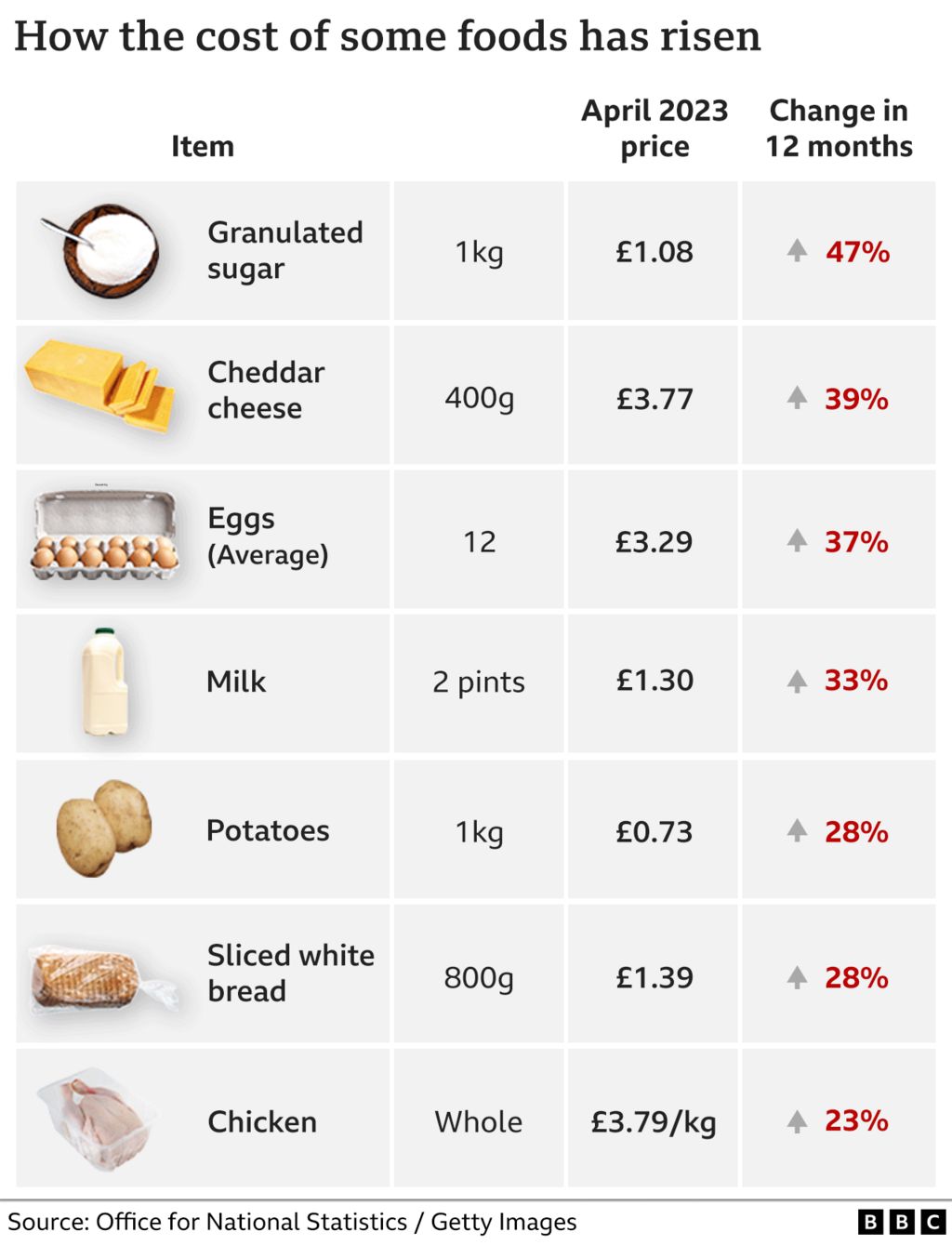 Retailers claim that falling wholesale prices take time to filter through to supermarket shelves due to the long-term contracts they typically sign with food producers.
On Wednesday M&S boss Stuart Machin said the retailer had invested in protecting customers from the full force of inflation, which had impacted its profit margin, but said it was the right thing to do.
The regulator has opened an investigation into the pricing of food and fuel at UK supermarkets. – bbc.com