Veg shortages drive surprise jump in UK inflation
The cost of living unexpectedly increased last month after shortages of salad and vegetables helped push food prices to their highest for 45 years.
Alcohol prices in restaurants and pubs also drove up costs for households as inflation jumped to 10.4% in the year to February from 10.1% in January.
Clothing costs, particularly for children and women, rose last month but fuel prices continued to fall.
The surprise figures come ahead of a decision on interest rates on Thursday.
The UK's central bank, the Bank of England, will decide whether to increase, lower or hold interest rates as it continues its battle to ease inflation.
The Bank has put up rates 10 times in a row since December 2021 as it seeks to make borrowing money more expensive and encourage people to spend less, hopefully stopping prices rising so quickly.
To calculate inflation, the rate at which consumer prices rise, the Office for National Statistics (ONS) tracks the prices of hundreds of everyday items.
It said the continued rise in food costs had been a major factor in February's inflation figure, coming at a time when supermarkets were also experiencing shortages of some salad items and vegetables.
Tomatoes, peppers and cucumbers were among vegetables affected as extreme weather in Spain and North Africa affected harvests and high energy prices hit growers in the UK.
The ONS said food inflation had hit 18.2% in the year to February – the highest in 45 years – as the prices of milk, olive oil, sugar and eggs also rose.
Minette Batters, president of the National Farmers Union (NFU), told the BBC that food prices had risen partly because of the "extraordinary costs" farmers were facing, but also because there were fewer growers and shortages had emerged.
'Depressing'
Until February inflation had fallen for three months in a row, but the surprise jump shows cost-of-living pressures on households and businesses are far from over.
However, ONS chief economist Grant Fitzner told the BBC the longer term outlook for the UK was "not quite as bleak".
He said inflation was set to fall this summer as energy prices come down.



The inflation numbers are an unpleasant surprise for the markets, forecasters, the Bank of England and those in government hoping for a smooth path to their own target of halving it by the end of the year.
UK inflation in February will be the highest in the G7, leaving us as the only country still in double digits. But this will come as little surprise to consumers at the sharp end of relentlessly rising food prices and the recent vegetable shortages.
Inflation will still fall, it has to mathematically, as the biggest single component over the past years, domestic energy bills, rise by a smaller amount than in 2022. But it promises to be a bumpier ride than hoped.
All this will complicate matters for the Bank of England, which will decide on whether to raise rates tomorrow. The Bank, and its US counterpart the Federal Reserve later tonight, will be balancing concerns about stubborn inflation with fears over global financial stability. That balancing act just got more difficult.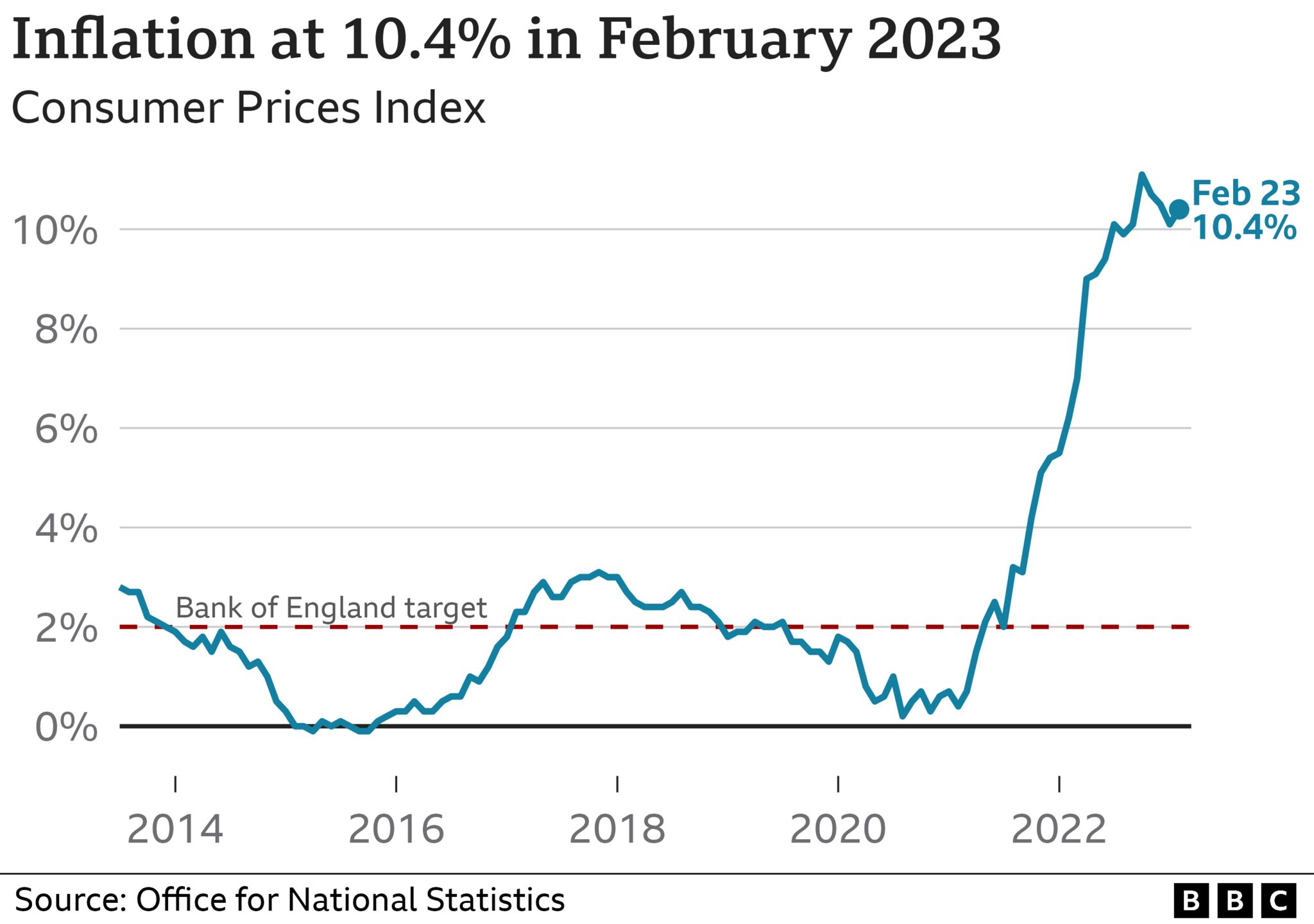 Chancellor Jeremy Hunt said falling inflation rates were "not inevitable".
"We recognise just how tough things are for families across the country, so as we work towards getting inflation under control we will help families with cost-of-living support worth £3,300 on average per household this year."
But Labour Shadow Chancellor Rachel Reeves said "nothing" in the UK economy was working better than it did before the Conservatives took office 13 years ago.
Yael Selfin, chief economist at KPMG, said the increase in inflation complicated the Bank of England's decision on interest rates.
Economists had been expecting the Bank to hold rates in light of recent fears over the stability of the banking sector. But many think it will now increase them from their current level of 4%, although Ms Selfin said any rise could be the last. – bbc.com