Rugby World Cup 2023: Rank top 10 icons in tournament's history
Who are the greatest Rugby World Cup icons?
In a podcast series on BBC Sounds, two World Cup winners – Matt Dawson of England and Bryan Habana of South Africa – join the BBC's rugby union correspondent Chris Jones to discuss their rankings.
The series also covers themes including the best captains, tries, upsets and teams.
Below are their picks for the greatest icons. See what you think, then rank them yourself.
Jonah Lomu (New Zealand)
Lomu is regarded as the first true global superstar of rugby union, thanks mainly to his performances at the 1995 and 1999 World Cups. Despite not winning a World Cup, the powerful winger transcended the sport. He is the joint-leading try-scorer in the competition's history with 15 tries, level with Habana.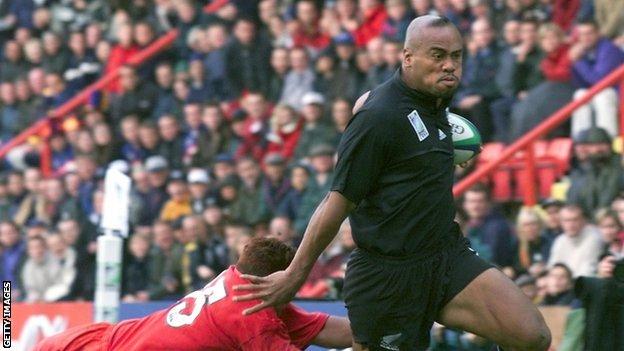 Habana: "Rugby's first global superstar. South Africa tackling him in 1995 was a moment in itself. He blew mindsets across the world about rugby."
Dawson: "I am not sure anyone has passed him as a global superstar. At a time when the game was going professional, he was the hottest of properties the game has ever seen."
Richie McCaw (New Zealand)
McCaw played at four World Cups from 2003-2015. He captained the All Blacks to back-to-back tournament wins in 2011 and 2015, becoming the first and so far only captain to do so.
Habana: "To play the World Cup final in 2011 with a broken foot and to lift that trophy in 2015… Richie was at the level every aspiring rugby player should want to get to: Wanting to be the greatest of all time. How do you become the greatest of all time? Captain your country to back-to-back World Cups."
Jonny Wilkinson (England)
The fly-half kicked a drop-goal in the last minute of extra time, with his weaker foot, to secure a dramatic 20-17 win for England over Australia in the 2003 final. Four years later, after an injury-plagued spell, he was instrumental in helping England to the final in Paris, where they lost to South Africa.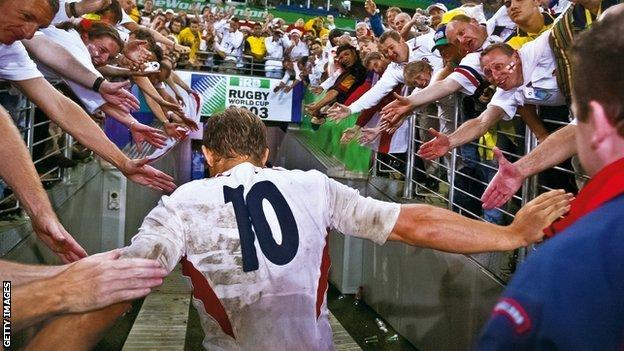 Dawson: "If you go to Australia, Jonny Wilkinson would be a bigger icon than Richie McCaw."
Dan Carter (New Zealand)
Carter played at four World Cups and was voted World Rugby player of the year after his performances helped New Zealand win the 2015 World Cup. That came four years after the fly-half was famously injured for a home World Cup, missing out on lifting the trophy on home soil.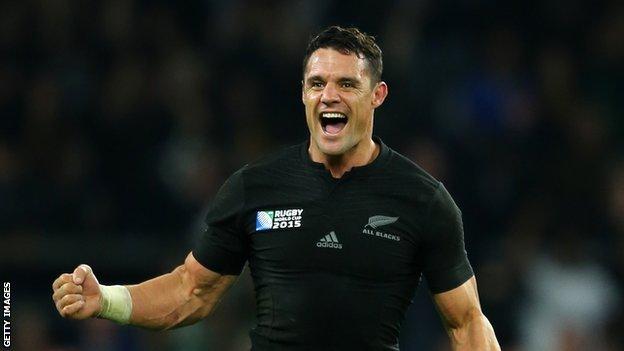 Dawson: "'Icon' for me means you don't need to be into rugby or a fan – even if it is just a name, you are going to know of them, as they have that big a status. He gives the broader sporting and rugby public an iconic perception."
Siya Kolisi (South Africa)
Kolisi became the first black South African captain to lift the Webb Ellis Trophy when they beat England 32-12 in Yokohama in 2019. He said victory would "pull the country together". Kolisi now aims to replicate McCaw's achievement of back-to-back titles as captain in France.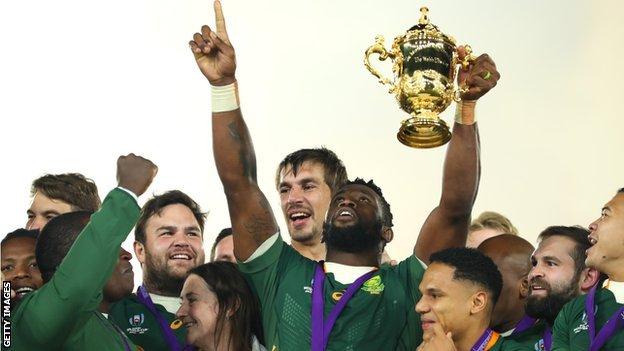 David Campese (Australia)
The Australia wing was a standout performer in their 1991 World Cup victory; his iconic moment coming in the semi-final when he ignored the New Zealand haka and chose to warm up instead. He later set up a try with a weaving run and no-look pass.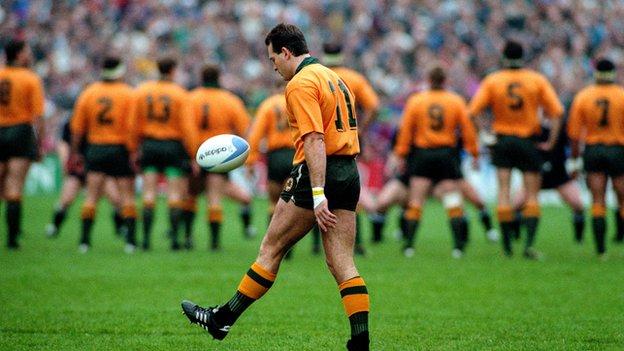 Dawson: "The sport gets widespread coverage now and everyone is seeing it on social media, but if we are talking about this list in the early or mid-2000s, Campo would be very high up on it."
Francois Pienaar (South Africa)
Pienaar led South Africa to World Cup glory on home soil in 1995, receiving the trophy from Nelson Mandela. Pienaar said the trophy was not just for those in the stadium but for "all 43 million South Africans" helping to unite the nation.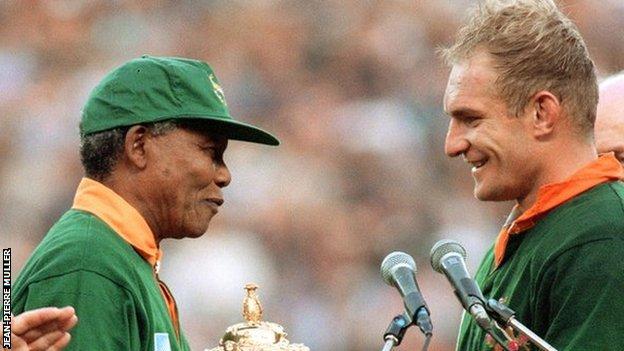 Bryan Habana (South Africa)
Habana played in three World Cups, scoring eight tries in 2007 to share the record for the most tries in a single tournament. He equalled Lomu's overall try record of 15 at the 2015 World Cup.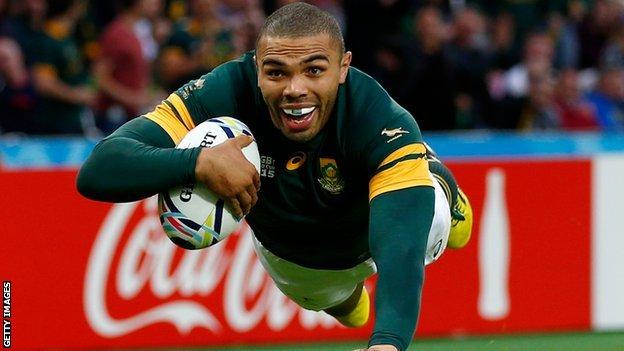 Dawson: "They need to have that X-factor but be able to deliver it on the biggest stage, at the moment, for the trophy, for the win.
"Bryan needs to be on that list, not only for the 15 tries he scored in the World Cup, but plenty of tries that he set up and saved, and the longevity of his career to be able to do that consistently over three World Cups."
Habana: "I didn't grow up in a situation of constant need, so I got given the best opportunities growing up. For that, I am incredibly grateful to my parents.
"I understand the unifying factor and I relate that to a Kolisi story. He has been inspirational and very different. I understood the responsibility of being a Springbok. I never saw myself as a player of colour for the Springboks, I just saw myself as South African."
Sonny Bill Williams (New Zealand)
The rugby league convert won both the 2011 and 2015 World Cups for New Zealand. Williams famously gave his medal away after the 2015 final to a young fan, after providing an assist for Ma'a Nonu's try with a signature one-handed offload.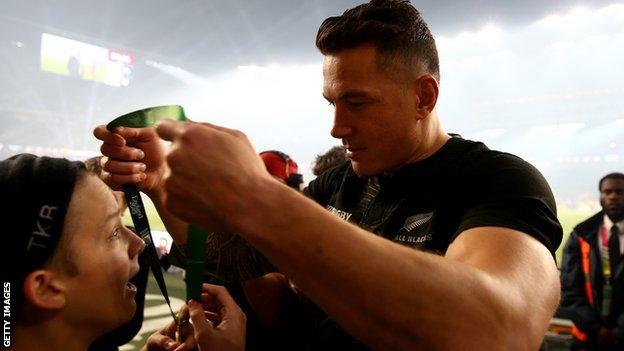 Habana: "In 2011, crossing over from league, a big deal was made about it. In 2015 he came off the bench and that offload to Ma'a Nonu before handing over the medal to that little kid… Sonny Bill was a star attraction everywhere he went.
"He came on and played wing in 2011, and did phenomenally well. The way he handed over that medal and embraced the fame and stardom but stayed humble about it… and didn't divide opinion."
Dawson: "There aren't many that stand above the game globally and he does. There are those types of conversations where people might not know his name – but they are going to know he was the guy that gave a medal away."
Brian Lima (Samoa)
Samoan Lima became the first man to play at five World Cups – from 1991-2007. His shuddering hit on Springbok fly-half Derick Hougaard during the 2003 tournament was one of his many memorable World Cup moments.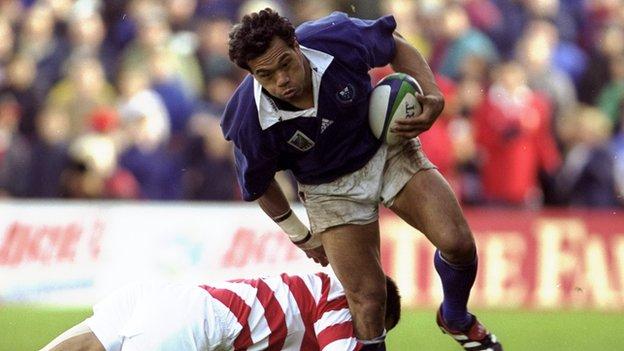 Habana: "The first player to play five World Cups. You start at 17 and finish at 33. It's some achievement to be mentioned as an icon from a nation that has never ever got past the quarter-final."